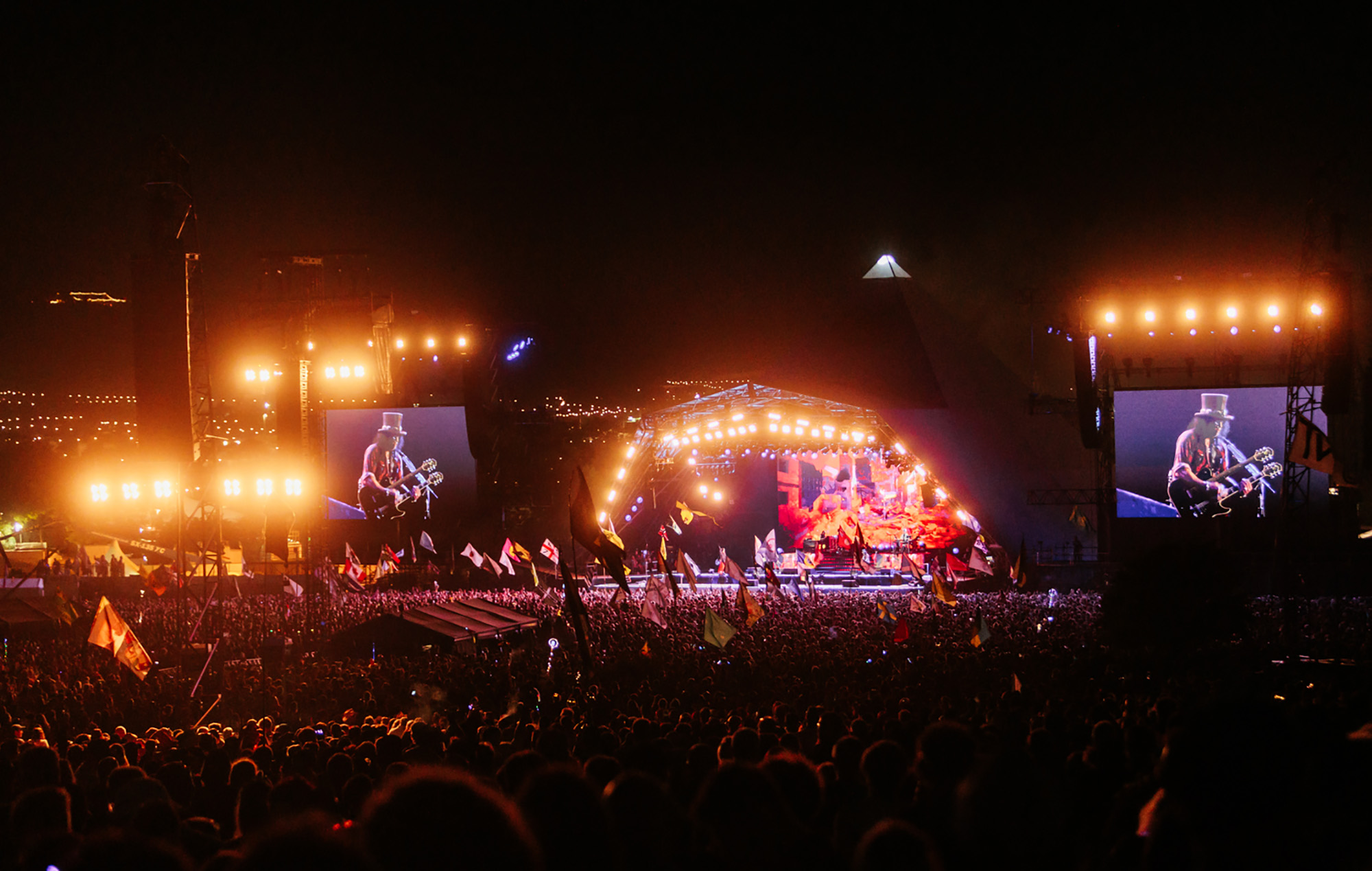 Glastonbury 2023 is now behind us – with over 200,000 people heading down to Somerset's Worthy Farm for the UK's biggest festival. However, many will already be eager to find out how to get into next year's event, and it's not long now until tickets go on sale.
The Somerset-based festival is renowned not just for being one of the biggest festivals in the world but also one of the hardest to get tickets for. Tickets for the 2023 edition sold out within an hour of going on sale last November, while re-sale tickets sold out in just six minutes in April.
The Glastonbury line-up typically won't be announced before tickets go on sale, but expect a bill fitting for a musical extravaganza. The 2023 line-up was packed with performances from the likes of Elton John, Arctic Monkeys, Guns N' Roses, Lana Del Rey, Phoenix, Queens Of The Stone Age, Kelis, Warpaint, Fatboy Slim, Fred Again.., Lil Nas X, Lizzo, and many more. However, there are already some pretty huge rumours for who'll be headlining in 2024.
Tickets for Glastonbury 2024 will go on sale later this year – here's all the information you need to help you secure passes for next year's festival.
When will Glastonbury 2024 take place? 
It has now been announced that, keeping with tradition, next year's festival will be taking place on the final weekend of June from Wednesday June 26 through to Sunday June 30, 2024 at Worthy Farm in Pilton,
How much will tickets for Glastonbury 2024 be? 
Standard tickets for Glastonbury 2024 will cost £355 plus a £5 booking fee. As is now tradition, you can pay a £75 deposit per attendee before paying the full balance in the first week of April.
If you're buying coach tickets with your festival ticket, you must pay for the coach ticket in full at the time of purchase. Coach ticket prices vary depending on departure point, but typically sit between £40 and £150.
How and when do I to register for tickets to Glastonbury 2024? 
Before you can even think about getting in the dreaded online queue for tickets when the on-sale day arrives, you need to register to be able to access tickets. This is a move adopted by Glastonbury to help cut down on touts and means each general admission ticket will come with a photo of the ticket holder printed on it.
You can register on the Glastonbury website here now and have until 5pm GMT on October 31 to submit your registration. If you have registered in the past (and after 2010), the festival advises that you check your registration and upload a new photo if your existing one is more than two years old. If you registered for Glastonbury prior to 2010 you will need to register again, due to registrations before that year having been deleted.
Back in August, the festival gave advice for those wishing to get tickets and told fans that any Glastonbury ticket registrations submitted prior to 2020 need to be reviewed and confirmed before the next ticket sale. You can do that here.
[embedded content]
They also wrote: "Please also take a moment to review the details and photo(s) we have on file, submitting a more recent photo if your existing one is no longer of a good likeness, and make any other necessary amendments to your registered information no later than 30 September 2023."
Upon clicking the registration link, you will be asked to re-enter your email, which will be followed by an e-mail from Glastonbury containing your registration number(s) and unique links which will let you view, edit or delete your details, or update your registration photo to a more recent image.
For fans that registered prior to 2020 who intend to buy tickets for 2024 festival or in future years, all details will need to be reviewed/ updated and confirmed no later than Saturday, September 30 2023. If you do not confirm pre-2020 registration details, they will be deleted on Monday, October 2, 2023 and fans will be required to submit a new registration.
When will tickets for Glastonbury 2024 go on sale? 
As announced on September 29, ticket/coach travel packages will go on sale at 6pm GMT on Thursday, November 2. The general sale will take place at 9am GMT on Sunday, November 5.
They'll be on sale exclusively via glastonbury.seetickets.com.
Glastonbury Festival 2024 tickets will go on sale on Thursday, November 2nd (coach + ticket packages) and Sunday, November 5th (standard tickets).

Info at https://t.co/YwYspsGHt5 pic.twitter.com/VI9tLqY4OL

— Glastonbury Festival (@glastonbury) September 29, 2023
If you buy a coach ticket with your festival ticket, you must then travel on that selected coach to receive your festival tickets.
When preparing for the general sale, make sure you have all of your party's registration numbers and postcodes so you can buy tickets on their behalf. Tickets will only be sold via SeeTickets.
When will the ticket re-sale for Glastonbury 2024 be? 
If you miss out on tickets in the first sale, there's still a chance to grab tickets in the re-sale. These are tickets where the original purchasers haven't paid their balance in full by the cut-off date in early April and will be put back up for sale. Typically, the re-sale will take place a few weeks after the deadline for paying off the ticket balance, so expect it to take place towards the end of April 2024.
When will the line-up for Glastonbury 2024 be announced? 
Don't expect to know the line-up for Glastonbury before you buy your tickets – the full bill isn't usually revealed until much closer to the event. Typically, festival organisers will reveal one or two big names towards the end of the year, with headliners and the first big line-up announcement taking place in the early spring. The full line-up will then be unveiled around a month before the festival is set to take place. These dates are not set in stone, however, and are liable to change.
Meanwhile, check out the frontrunners for who is rumoured to headline Glastonbury 2024 here.
How can I get into Glastonbury 2024 for free? 
Didn't manage to get a ticket or simply can't afford one? There are alternative ways to get into the festival – as long as you're prepared to put in a bit of work. Numerous charities have a presence at the festival and require volunteers to help out across the weekend. In return for your ticket, you'll be asked to complete shifts across the festival – the length and number of these vary, depending on which charity you attend with. Be warned: you may have to pay a deposit for your ticket, which can be the same price as the entry to the festival. For more information, visit Glastonbury's jobs page.
Check back at NME here for the latest news, reviews, interviews, photos and more from Glastonbury 2023.