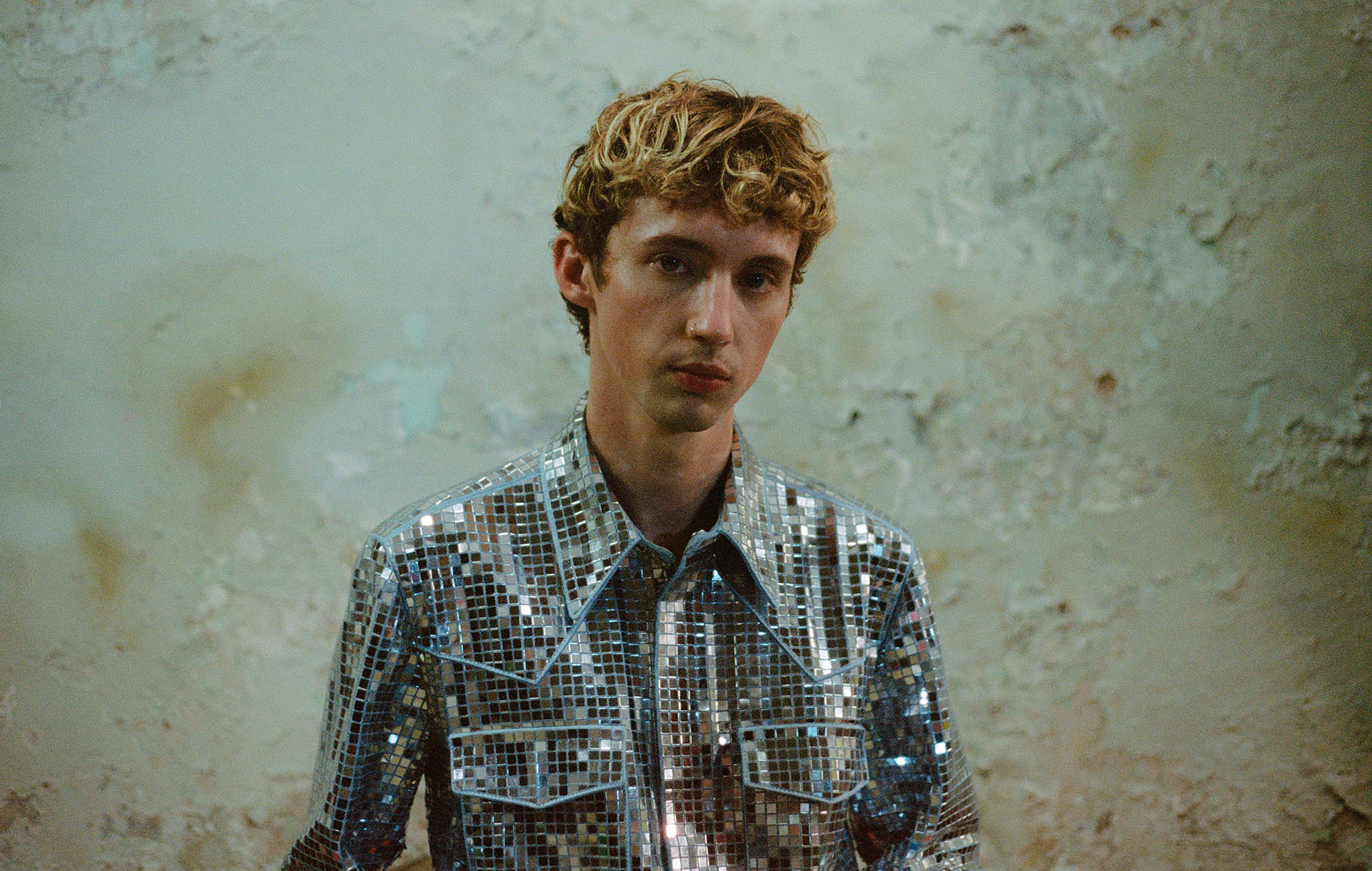 Troye Sivan has had a busy year. He got everyone hot under the collar, while wearing an electric shock dog collar no less, in The Idol, TV's most talked-about show (albeit for all the wrong reasons), and earlier this month strutted his stuff on the runway at Paris Fashion Week. However, the multi-hyphenate singer-songwriter is back to doing what he does best: making musical magic.
Pop's sometime 'sad boy' enters his 'party boi' era on third album 'Something to Give Each Other'. The former YouTuber, born in South Africa, but raised in Australia, set the tempo with euphoric lead single 'Rush', flashing a cheeky wink towards the poppers brand of the same name. And there is more than a whiff of let-your-hair-down hedonism on the rest of the record, his first full-length release since 2018's 'Bloom'; in 2020, he dropped seven-song EP 'In a Dream'.
During NME's Zoom interview, Troye happily showed off his party trick. "I can roll my stomach," he says, with a smile, before standing up, lifting his top, and rolling his belly. Truly tum-thing to behold.
Honesty's always been the best policy for the 28 year-old – his 2013 coming out video has clocked up over 9 million views on YouTube – and alongside the sensual, sweat-flicking bops, he revisits the pain and eventual relief of splitting from ex-boyfriend Jacob Bixenman. Heartbreak and healing has never sounded so gorgeous. Now, if only Troye would crack on with his own line of poppers…
[embedded content]
Congratulations on the new album. What headspace were you in whilst making it?
"From the first two singles ['Rush' and 'Got Me Started'], people would assume that it's all joyous and warm and free, and the nice thing to be able to say is, for the most part it is, because that's the place that I was in when I was writing it. But there's also… reflection on the past, introspection, some vulnerability on there as well. I'd say the big takeaway is a sense of hope."
What were your main influences and inspirations around this album?
"Janet Jackson. I saw her at the Hollywood Bowl. There's something super-nostalgic about her. I grew up loving and listening to her. There's this warmth in her music that has always stuck with me."
Let's deep dive into some of the tracks. Do you have a personal favourite?
"'One of Your Girls' is probably my favourite."
We may have completely misinterpreted the lyrics of the song, but is it about having a crush on a straight dude?
"It's about exactly that. I just had the experience a few times where, someone who previously has identified as straight is, for whatever reason, really entertaining me, and kind of, like, showing some interest. I didn't know how to feel about that, and it left me with a bunch of questions and conflicting emotions. I loved it on the one hand, [but] on the other hand, there was always that moment of – the flirting is really fun, and I think, gratifying for everyone, and validating for everyone, and then as soon as things would get serious, it's like, "Whoa, bro, I'm not gay." That can leave you feeling quite empty.
I've actually had the experience where it follows through and it's this really beautiful experience. It totally depends on how the person is approaching the situation. If they're coming at it from a place of exploration and vulnerability and openness, then… I think that's awesome. It's just a complicated one. It was one of those songs where I didn't know how I felt about it, and I still kind of don't."
The other standout tunes were 'Still Got It' and 'Can't Go Back, Baby', which are inspired by a break-up you experienced.
"An important part of the last couple of years, and I think of healing from a break-up is – it's up and down, you know, and I think those were two very vulnerable moments of retrospection and huge reliefs; a huge sense of relief to write each of those. I needed to write both of those for myself."
Is there some sort of etiquette when it comes to writing those kinds of songs? Do you give the person they're about a head's up?
"Everyone should be allowed to express themselves and tell their story or use art as a way to cope or process whatever it is that's going on in their lives. [But] because it is going out to a lot of people in my case, I do give head's up if I feel like it's something that is quite specific.
[embedded content]
We must talk about 'Rush'…
"A really important part of my life over the last couple of years has been going out and dancing and meeting people. It felt almost spiritual to me to do that, and so I knew that I needed that kind of song on there. We tried so many times to write that moment and that feeling and never really nailed it, and then the second that we got 'Rush', I was like, 'This is it.'"
There was a lot of chatter around the song when it came to the nod to poppers, not to mention the references to glory holes in the video and the artwork. What did you make of that?
"I loved it! They're all there on purpose… the same way that I try to be as honest as possible on an album like 'Blue Neighbourhood' when I was 19 years old or whatever, I'm 28 and being honest about life now. The video [for 'Rush'] looks like parties that I've been to and that my friends go to."
Do you think there is still prejudice around LGBTQ+ artists expressing themselves freely?
"There probably is on the conservative side of the population. But… if I upset a bunch of Trump supporters or something like that, I don't care. So, that's fine. I think, in general, queer artists are held to a really high standard as far as getting it right."
What 'era' of your artistry are you currently in?
"There's been a big gap between 'Bloom' and 'Something to Give Each Other', but I've been living my life the whole time. It's hard for me to zoom out in that way. Something that might feel like a big jump, or a big change, between albums doesn't feel like that for me, because it's been a gradual change that's happened over [those] five years. But I've definitely partied more as a 26, 27, 28-year-old than I ever did as an 18-year-old…"
You appear topless in the videos [for 'Rush' and 'Got Me Started']. You've spoken in the past about not always having been comfortable with your body. How has that relationship evolved?
"It's gotten way better. I also, sort of, realised that, for whatever reason, people love talking about my body, and I just had to get used to it, I think. It used to wig me out, or upset me, or whatever, and now I don't mind – I think I just accepted it for what it is. You know, I started to feel hot!"
You also recently recorded a cover of Billie Eilish's 'What Was I Made For', from the Barbie film. Have you heard from Billie? 
"I haven't heard from her since the cover came out, but I've known her for a long time. I'm a huge fan of her and Finneas. I would really love to work with them both. I think she's going to be a voice that we all remember our entire lives.
Moving on to the subject of fandom. On her latest album, Doja Cat sinks her claws into 'stans' expecting ownership over her life… do you have thoughts on that? 
"I've been in cycle promoting stuff for a good few months now, and I'm at the point where the public life and persona can start to blur, and I think that's really dangerous for an artist's mental health, because you can really lose sense of yourself. The way that I've always avoided that is by taking breaks. I can escape to Australia, and I put in the effort to make sure I get that time where I can build myself back up as a human first before I offer myself to everyone again."
Another story that's been doing the rounds is about artists being hit with objects while they're performing on stage. Have you experienced that?
"I got hit by a water bottle once. In my face. It was a long time ago. I mean, it's scary, it sucks. I don't know why anyone would ever do that. It just ruins the vibe of the whole thing. You don't want to have to be on guard when you're on stage.
Last question: would you consider bringing out a range of poppers?
"No, but our fragrances [from his lifestyle brand Tsu Lange Yor] when you buy the mini version… it was heavily inspired by a certain bottle!"
'Something to Give Each Other' is out now via Polydor