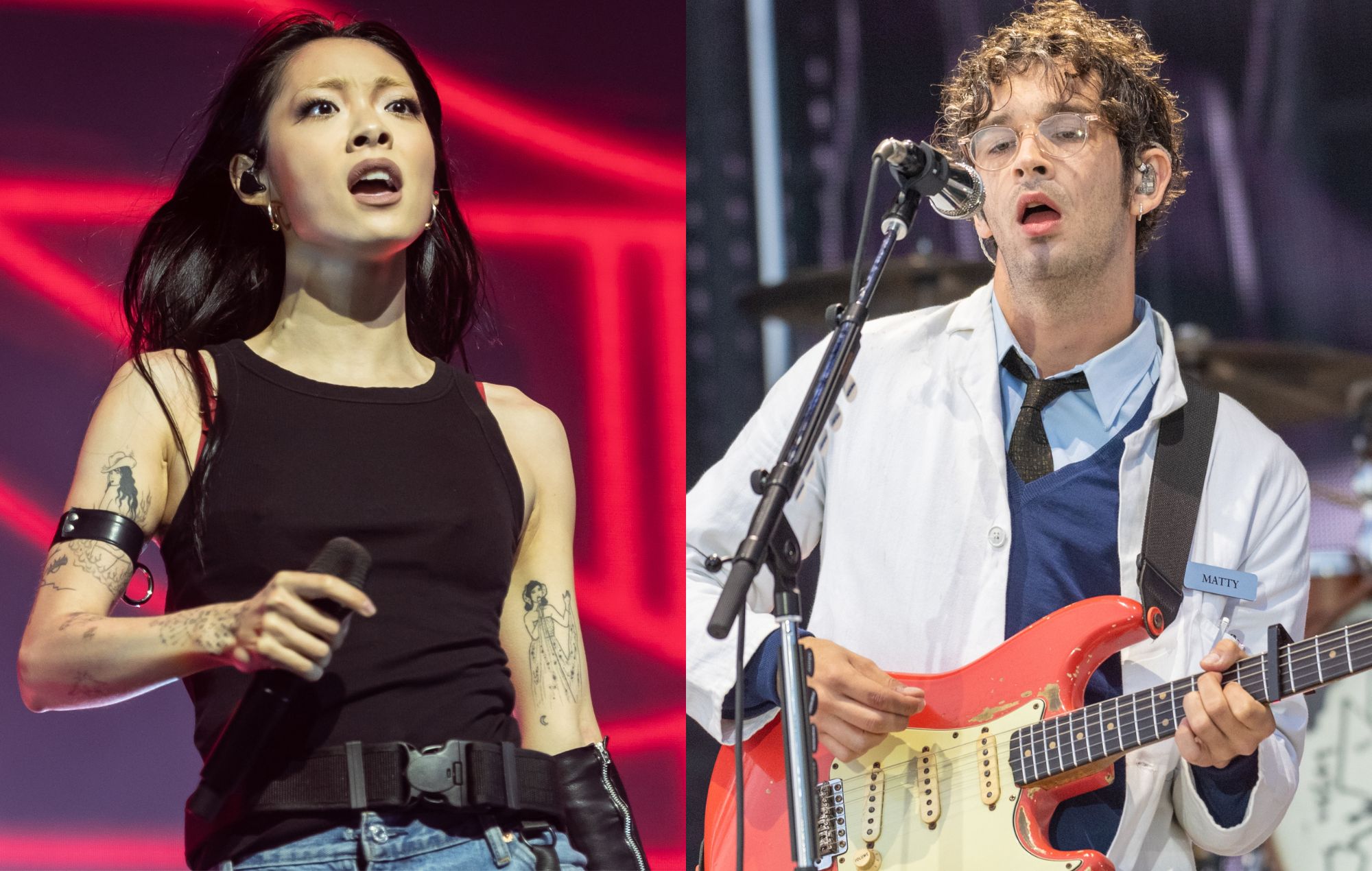 Music Interview
Rina Sawayama seemingly calls out Matty Healy again during NOS Alive set
Rina Sawayama appeared to call out The 1975's Matty Healy again during her set at NOS Alive.
The singer was mid-way through her performance at the Lisbon-based festival when she addressed the crowd and pushed for an apology from "some people" who get away with making sexist and racist comments.
"So I was thinking a lot about apologies," she began, speaking to the crowd towards the end of her track 'STFU'. "It's just funny how some people get away with not apologising ever… For saying some racist shit. For saying some sexist shit."
"So let's try this," she continued, with the intro of Limp Bizkit's 'Break Stuff' playing in the background. "Why don't you apologise for once in your life without making it about your fucking self?"
The comments onstage follow a similar display at Glastonbury last month when Sawayama appeared to dedicate 'STFU' to Healy. "Tonight this goes out to a white man that watches 'Ghetto Gaggers' [porn] and mocks Asian people on a podcast," she told the crowd at the Woodsies Stage, adding, "He also owns my masters. I've had enough."
The references to sexism and racism in both her speeches at Glastonbury and NOS Alive appear to be aimed at The 1975 singer, who faced backlash earlier this year after he was a guest on The Adam Friedland podcast.
Rina Sawayama calls out Matty Healy for the second time at NOS Alive Lisbon pic.twitter.com/7ObbLaNMTt

— lou 🪩 (@l0ul0uthef00l) July 10, 2023
Appearing on the since-deleted episode in February, Healy made various controversial comments about women and stated that he believes that Harry Styles "gets a pass" on criticism over alleged "queer-baiting".
The musician was then heard laughing when Friedland and co-host Nick Mullen later discussed Ice Spice's heritage, debating whether she has Hawaiian, Inuit or Chinese, before impersonating the accents of those countries and regions.
The latter part of Sawayama's Glasto speech also seemed to refer to her being signed to Dirty Hit – the record label owned by The 1975's manager Jamie Oborne. Healy was a director at the company but stepped down from that role in April.
Following the backlash to the podcast appearance, Healy later told the New York Times that he thought the controversy about the episode "actually doesn't matter" as he believes "Nobody is sitting there at night, slumped at their computer" and feeling upset because of what he said.
Last month, Amber Bain – better known as The Japanese House – revealed in an interview that she had written Healy "a really long" message sharing her thoughts about his podcast appearance.
"Clearly, I have issues with things that have been said – he knows everyone does," she said. "It's hard to hold a family member accountable for everything."
In other news, Sawayama was recently forced to cancel her appearance at this year's Mad Cool festival in Madrid following production issues arising just before she was meant to take to the stage. Her performance was expected to be held at the Region Of Madrid stage on Thursday (July 6), just a few hours after a set by The 1975.
As for The 1975, yesterday (July 10), it was revealed that the Manchester band will be the new headliners for Reading & Leeds festivals this year, following the departure of Lewis Capaldi, who cancelled all of his upcoming live shows to focus on his mental health.
The band also teased an upcoming UK tour during their set at TRNSMT Festival on Sunday (July 9). "We have written a new show and we're only gonna do a few dates in the UK, but of course, some of the dates are going to be right here in Glasgow," Healy told the audience.
"You will have the chance to see The 1975 still… at their very best… It's gonna get weird! And it's gonna get a little bit dark! I hope to see you there."