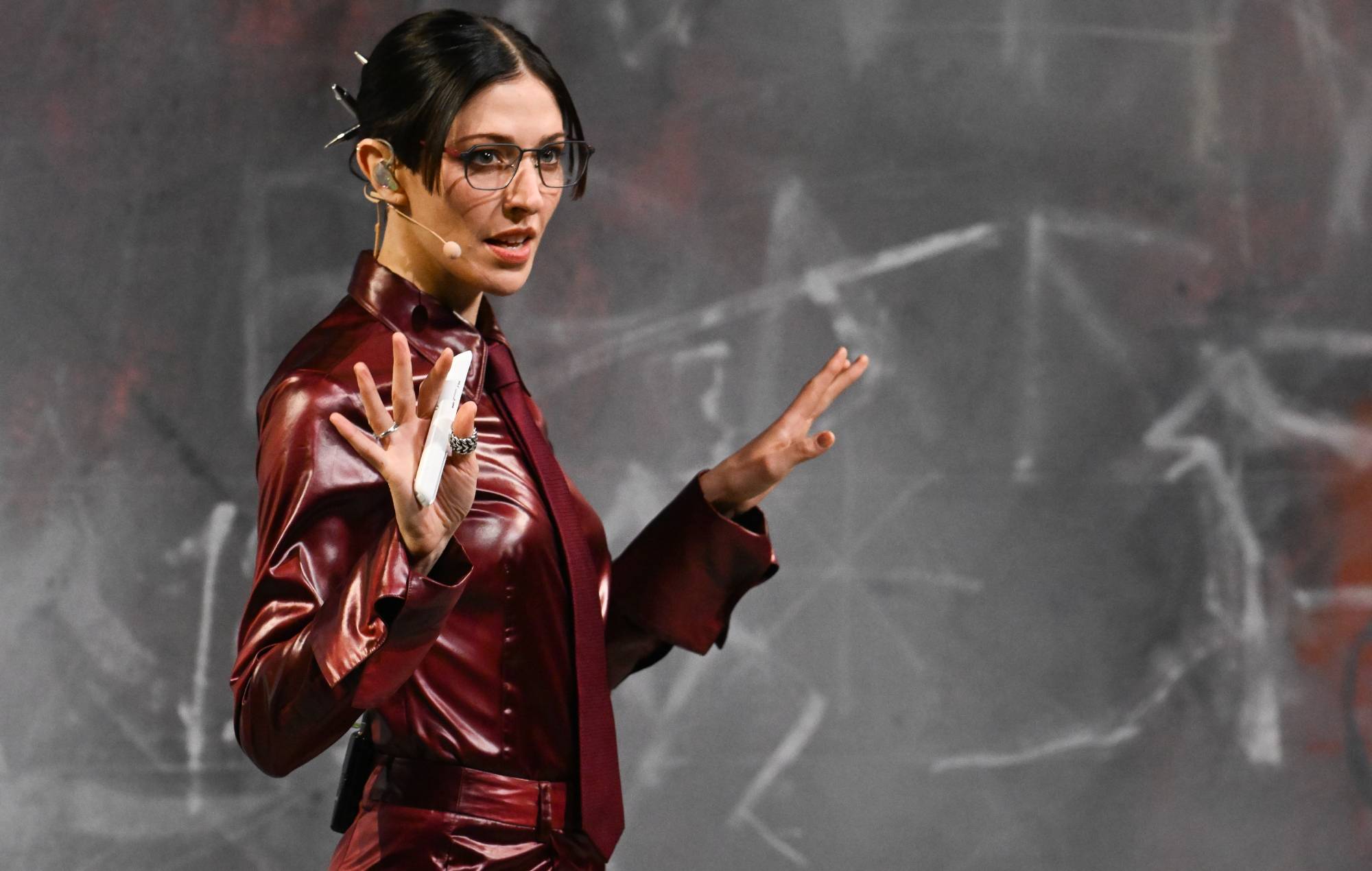 Music Interview
Caroline Polachek has released merch to raise money for Palestinian refugees
Caroline Polachek has released a line of limited-edition merch to raise money for Palestinian refugees.
The merchandise is available for a week and is inspired by her new single 'Dang', which was released earlier this week.
Polachek performed the track for the first time on The Late Show With Stephen Colbert in the style of a surreal Ted Talk, using a bewildering PowerPoint performance to set the tone. The merch designs are inspired by the slides from the PowerPoint she used – one t-shirt reads "Disappointing people is/are my central trauma", one asks "How many wolves are inside you?" and the other features a bizarre-looking animal head sculpture with a miniscule '2077' inscribed on it.
All of the proceeds will be donated to the UN Agency for Palestinian Refugees.
⚠️ LIMITED DROP ⚠️

original slides from the DANG presentation , available 1 week only

100% of profits to @UNRWA to benefit Palestinian refugees https://t.co/NRPdb3vRS1 pic.twitter.com/ruPkQjfNST

— Caroline Polachek (@carolineplz) October 20, 2023
Polachek isn't the only big name from the entertainment world to respond to the current Israel-Hamas conflict.
Earlier this week, over 2000 figures from the entertainment world, including Tilda Swinton, Steve Coogan and Massive Attack's Robert Del Naja, signed an open letter calling for a ceasefire in Gaza.
The letter condemns various governments for "not only tolerating war crimes but aiding and abetting them" amid the current conflict between Israel and the Palestinian group Hamas, as well as "every act of violence against civilians and every infringement of international law whoever perpetrates them".
Madonna gave an extended speech about the conflict in a recent show at The O2, in which she urged the crowd to "remember we are human beings here" because "we cannot lose our humanity" and to make a difference by bringing "light into the world".
Hamas' terror attacks on October 7, which included massacres at the Be'eri kibbutz and Kfar Aza kibbutz in Israel, was met with a deadly retaliatory response by Israel's national military, the IDF, largely with missile attacks.
A reported 260 attendees at Supernova Sukkot Gathering, a music festival that was held a few miles from Gaza in Israel, were killed in an early morning attack by Hamas militants. The organisers of the festival have since released their first statement over the "unspeakable tragedy".
Currently, the Palestinian Health Ministry says the death toll in Gaza has surpassed 4,000 since October 7, and over 13,000 people have been injured there. That includes around 500 people who lost their lives in a hospital bombing on Tuesday (October 17).