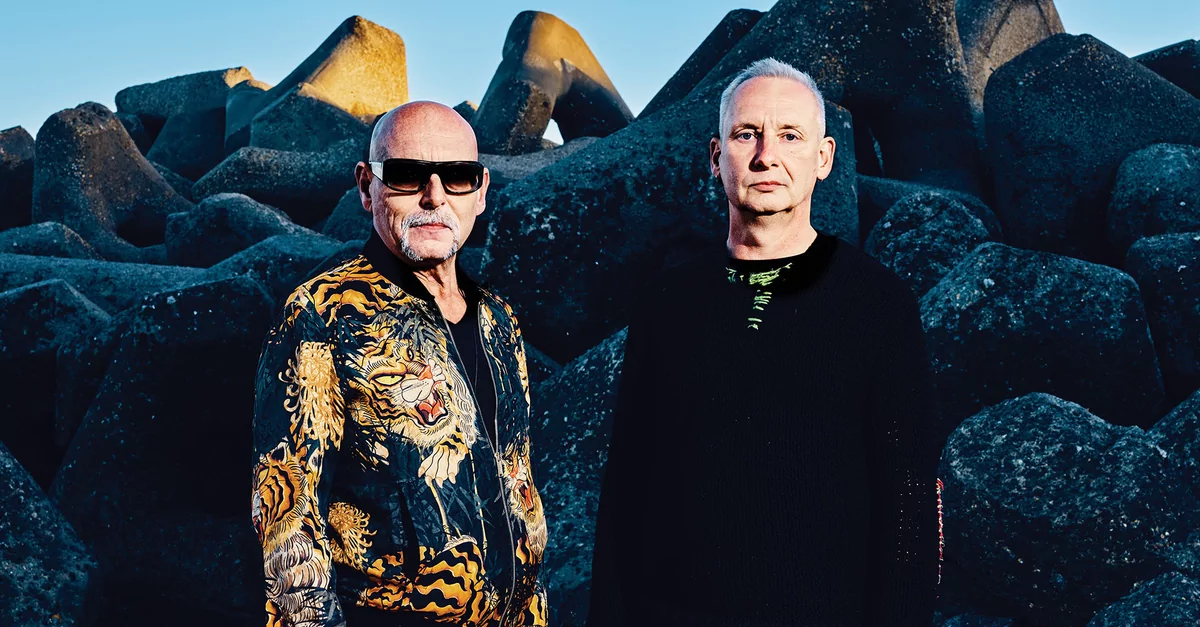 "When's the zombie apocalypse coming?" jokes Paul Hartnoll, one half of Orbital, as we're chatting over Zoom about the run of events leading up to the release of the band's 10th album, 'Optical Delusion'. A celebration-worthy milestone for any group, it follows hot on the heels of 2022's '30 Something', a compilation that celebrated over three decades of music making with reworkings and remixes of iconic tracks such as 'Halcyon' and 'Chime'. It was also a year that saw the release of their soundtrack to 'The Pentaverate', a Netflix series created by Mike Myers. Yet 'Optical Delusion' is no victory lap. Instead, it's an album that comes out swinging. 
Debut single 'Dirty Rat', a collaboration with Sleaford Mods, is a growling, incendiary blast of heartfelt anger towards the state of our nation. Unflinchingly referencing drowned migrants as it alludes to Tory-voting gammon, it's filled with rage. Second single 'Ringa Ringa (The Old Pandemic Folk Song)' pivots, recalling the dreamy, swirling, trancey melodies of Orbital of yore. But its Mediaeval Baebes-sampled vocal of the nursery rhyme 'Ring A Ring O' Roses', whose lyrics recall 1665's Great Plague of London, draws you to the on-going global pandemic — something news cycles had squeezed to the margins until recently.
Recorded during lockdown, 'Optical Delusion' doesn't shy away from division and discontent, track titles such as 'The New Abnormal' and 'Requiem For The Pre Apocalypse' alluding to our precarious global state. This is, after all, the duo who wrote 1992 eco-rave anthem 'Impact (The Earth Is Burning)', retitling last year's reversion 'Impact (30 Years Later And The Earth Is Still Burning Mix)', and made their debut appearance on Top Of The Pops in anti-Poll Tax T-shirts. But as well as addressing broader issues, the album speaks volumes about how Covid affected the Hartnolls themselves.
"As someone who hasn't stopped since the early '90s, it was quite nice — aside from all the caveats about people dying and the terror of the apocalypse," says Paul, at 54 the younger of Orbital's brotherly pairing. Beaming to us bright-eyed from his Brighton home studio, he decamped there during lockdown after collecting his favourite gear from the other larger shared complex he also uses. It was a period when he finally began to appreciate living in Brighton, having previously held onto a longing for the excitement of London.
"The seafront sort of became my home office, it was the social point of lockdown," he says of morning walks to get coffee in the fresh sea breeze, people chatting while standing the regulatory two metres apart. Getting into running and Yoga With Adriene, he went "from FOMO to JOMO. I absolutely embraced the joy of missing out." The studio became his sanctuary; in the early days of lockdown, Paul just wanted to make "group hug kind of music" like 'The Crane', one of three bonus tracks that come with the album.
It's a period that seems distant now, the end of lockdown seamlessly sliding into a renewed threat of nuclear war after Russia invaded Ukraine. But it's preserved in 'The Virus Diaries', an album Paul released in 2021 with poet and performance artist Murray Lachlan Young. Recording a track a week while Murray had a residency on BBC 6Music, titles such as
'I Need A Haircut' and 'Working From Home' bring back sensory memories even before Paul injects his modulating melodic moods into the dextrous verbal sketches. "It was really cathartic," he recalls, praising Murray's humanising touch and ability to move from the wry to the melancholic. "He said, 'I want to talk about the human, micro side of it, rather than all the stuff we hear on the news." It's an intentional time-capsule, he adds, meant for listening back to in 20 years' time.