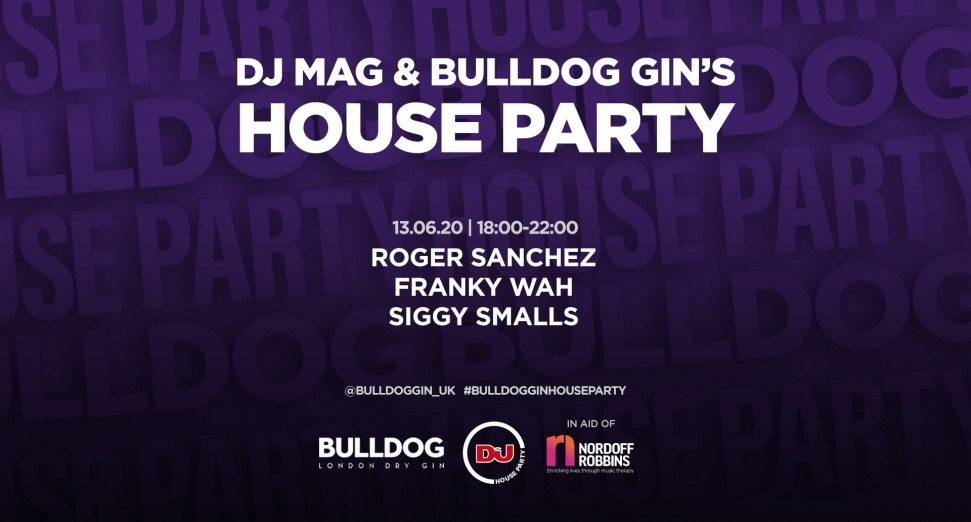 Latest
DJ Mag & BULLDOG Gin announce House Party live stream with Roger Sanchez & More
News
DJ Mag has teamed up with BULLDOG Gin and Nordoff Robins to bring you a live broadcast showcase with 'at home' sets from Roger Sanchez, Franky Wah and Siggy Smalls.
Taking place this Saturday 13th June, to coincide with World Gin Day, DJ Mag & BULLDOG Gin's House Party runs from 6pm – 10pm (BST).
BULLDOG Gin is the gin most associated with the music world. Over the last twelve months, we've worked with the BULLDOG Gin crew to bring you Patrick Topping's epic poolside party set from Pikes Ibiza and Green Velvet's closing set at a packed Printworks London. 
With clubs and festivals on pause, we've created a House Party concept with a difference – expect visual effects and feel-good sets from three leading DJs – from their homes to yours!
DJ Mag & BULLDOG Gin's House Party is in support of Nordoff Robins, the UK's largest musical therapy charity. BULLDOG Gin have made a donation of £5,000 to Nordoff Robins to get things started and viewers will be invited to make their own donations during the performances.
Tune in to DJ Mag & BULLDOG Gin's house party with Roger Sanchez, Franky Wah & Siggy Smalls on Saturday 13th June from 6pm (BST). Watch via our YouTube, Facebook, or Twitch pages or direct on the site.