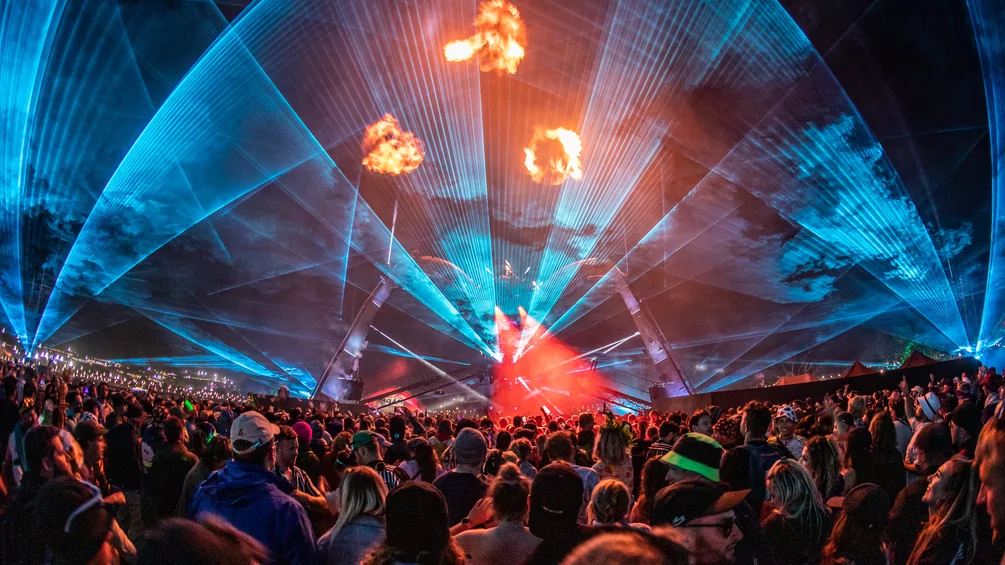 Latest
Arcadia will run exclusively on renewable energy for Glastonbury 2023
Arcadia have announced that their area at this year's Glastonbury will run entirely on recycled energy for the first time.
Announcing the move last month, the brand revealed that instead of relying on non-renewable resources like diesel, the 5,000 square-metre festival area, known for its iconic spider stage, will run on recycled biofuels, including one converted from highly refined chip fat and cooking oil.
The team behind Arcadia have been working on a solution for a few years, due to their continued reliance on generators, along with machinery such as forklifts trucks that use diesel. "With the current infrastructure that festivals run on it was clear one of the more efficient ways it could be done is by using a waste fuel to power all those bits of machinery," Arcadia's co-founder, Bertie Cole told DJ Mag.
"But until quite recently, a lot of the biofuels that were available didn't really have the provenance of components, like some of them had palm oils etc. that [we] wouldn't want to encourage the use of, whereas it's got to the point now where we can proudly put our name to it."
The Arcadia team have been working closely with Glastonbury's environmental consultants in order to make the monumental shift. "We've been doing a lot of research on potential types of fuel – and there is a HVO fuel now which is made from recycled chip fat and cooking oil" said Cole. "And it's refined down to a degree where it can be used in a normal diesel engine.
"So, what that allows you to do is actually run your normal generators and machinery from a fuel which has been salvaged from a waste product, so rather than using virgin minerals and things that haven't been extracted yet, you can use things that have been grown and then burnt and used for cooking and other things like that, and then give it another use by using it to power things."
In 2015, Arcadia announced that its 50-tonne mechanical spider would run on the world's first biofuel-powered flame system — with cooking oil taken straight from Bristol's fish and chip shops. "We just feel like from an artistic perspective, we're always trying to do things that are different and repurposing things from one life and putting it into another, and it just feels like if we can do that with our fuel supplies and our energy systems then we're walking the talk," said Cole.
In making the switch to renewable energy across the Arcadia arena, he is keen to inspire other Glastonbury stages to follow suit. "It's one of those things that we all have a duty to take into consideration, but it is a demanding thing — creating a city in the middle of the countryside — and there are a lot of challenges, but hopefully we can show people it is possible and lead them down a good route."
Arcadia unveiled its full line-up for the 2023 arena last week, including a DJ slot from The Chemical Brothers, alongside appearances from the likes of DJ Flight, Elkka, Dr Banana, SHERELLE, VTSS, Hybrid Minds (ft Tempza), Shy FX (ft Stamina MC) and MK. The fire-breathing spider stage will also host a number of b2b sets, including Floating Points b2b Daphni, Skream b2b Interplanetary Criminal, Chloé Robinson b2b Plastician, and DJ Q b2b Yung Singh.