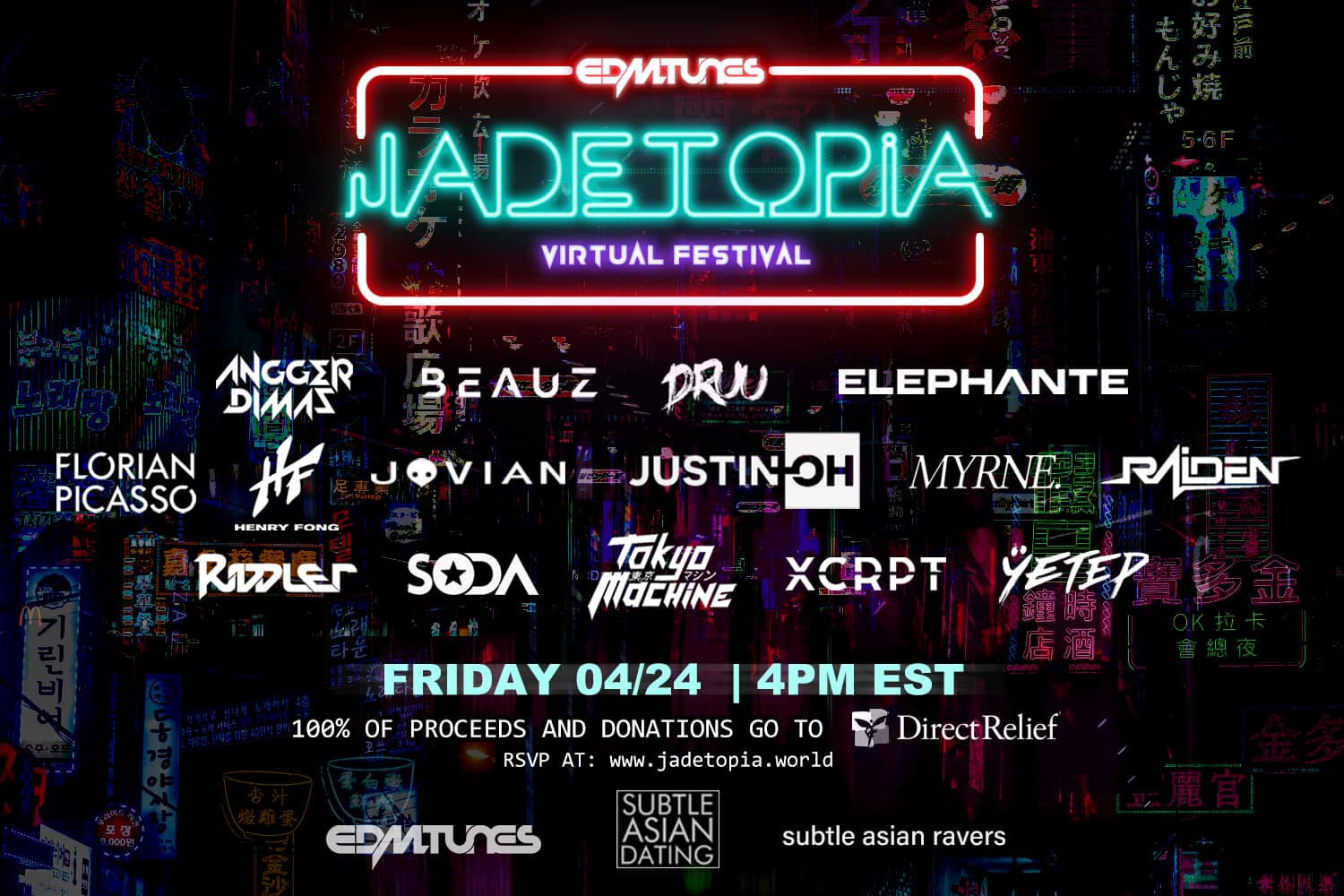 Popular
VIRTUAL FESTIVAL JADETOPIA LAUNCHES FOR COVID-19 RELIEF WITH FULL ASIAN LINEUP FT. FLORIAN PICASSO, ELEPHANTE AND MORE
In the midst of the Covid-19 pandemic, live music has practically come to a halt. Now, musicians have taken to the internet to connect and engage with their fanbase by creating live streamed concerts and sets from their living room. EDMTunes has teamed up with 1001Tracklists, Direct Relief and Facebook groups Subtle Asian Ravers and Subtle Asian Dating to provide the first ever full Asian lineup virtual electronic festival, titled JadeTopia. JadeTopia will include live music from Florian Picasso, Elephante, DJ Soda and more. JadeTopia Virtual Festival will take place on Friday, April 24, starting at 4 PM EST on Twitch and Facebook Live.
JadeTopia will be the first ever virtual music festival with a complete Asian artist lineup aimed at raising money for COVID-19 relief with 100% of the proceeds donated to Direct Relief. This first all-Asian roster will help to raise money for COVID-19 and take a stand against racism faced during this pandemic, primarily surrounding the Asian community in the U.S. and abroad. JadeTopia features a musically and geographically diverse lineup, with Elephante (USA), Henry Fong (USA), DJ Soda (South Korea), and Tokyo Machine (Japan). Artists include Angger Dimas (Indonesia), BEAUZ (USA), DRUU (USA), Florian Picasso (Vietnam/France), Justin OH (South Korea), MYRNE (Singapore), Raiden (South Korea), Riddler (USA), yetep (USA), and XCRPT (USA).
"We've had so much time to reflect on our priorities during these past weeks in quarantine. We wanted to utilize our platform for something bigger than ourselves and aid in this time of crisis. When Michael approached me with the JadeTopia concept, I immediately thought it was an excellent way to simultaneously raise money and awareness. It's incredible to see the immense amount of support we have received from both artists and partners. We're excited to see how people will come together in this virtual festival to raise significant funds for Direct Relief." – Andrew Cheng (EDMTunes CEO)
"Over the past few months, Asians have been victims of racial crimes due to COVID-19. By creating JadeTopia, we hope to raise money to assist our health workers through Direct Relief as well as present Asians everywhere the opportunity to stand together during these unprecedented times." – Michael Tam (EDMTunes Managing Editor)
ABOUT Direct Relief: 
Direct Relief is a humanitarian aid organization active in more than 80 countries, providing masks and protective and essential medical items to health workers responding to coronavirus.
WHERE TO WATCH: 
Event Page | Facebook | Twitch
SOCIALS:
Facebook | Instagram |  Twitter | Twitch