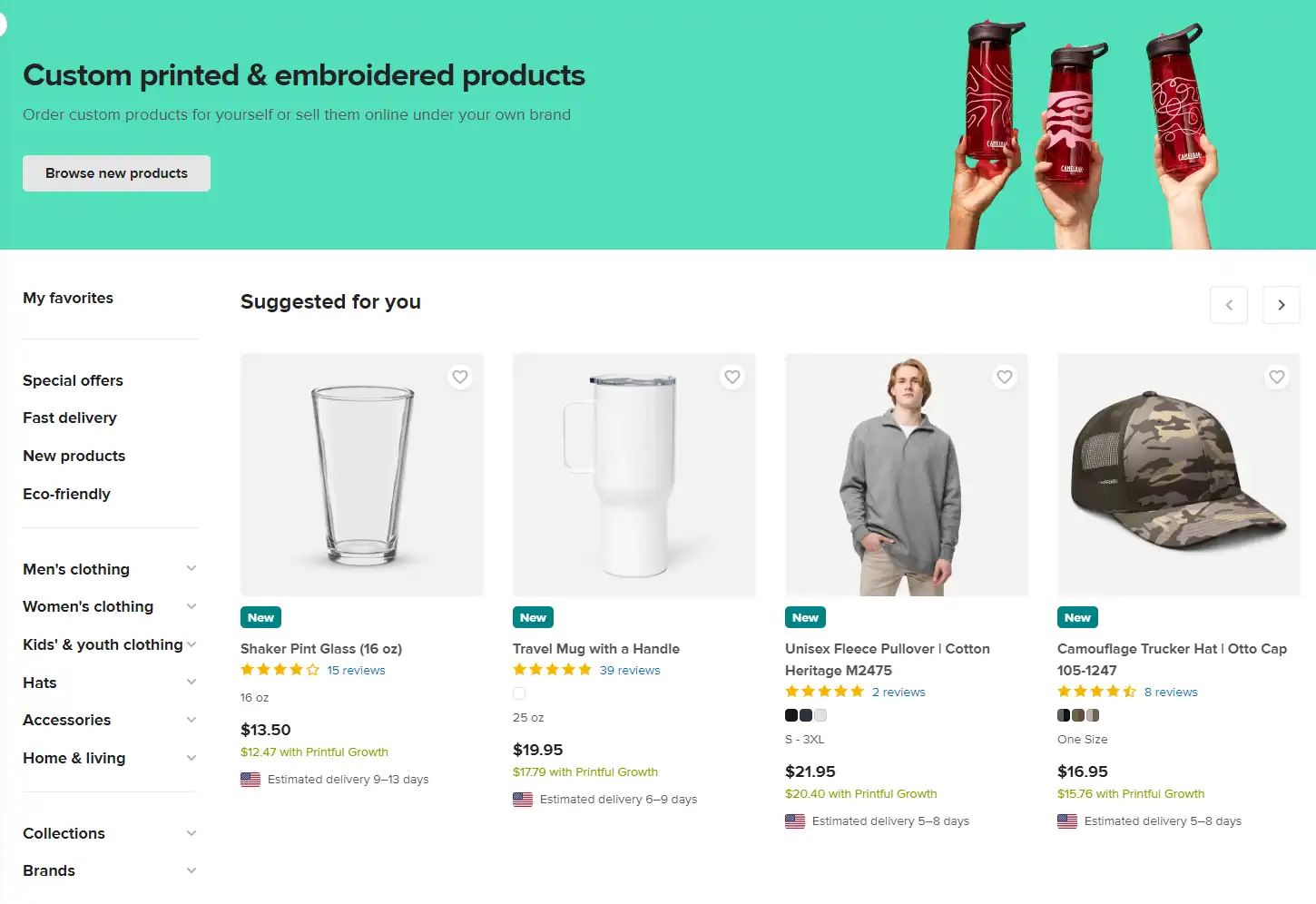 Selling artist merch is a powerful way for musicians to generate income, grow their brand, and connect with fans. This guide covers how to create and sell merch using on-demand production and online shops.
We'll review strategies for designing products, setting up your shop, fulfillment options, promotion tactics, and key platforms like Shopify, Etsy, and Printful.
Why Sell Merch as a Musician?
Here are some of the top reasons to offer merch:
Additional revenue stream – Merch provides a secondary income source along with music sales and streaming. Higher profit margins compared to streaming.
Strengthens brand identity – Merch reinforces your artist image and helps fans represent the brand.
Fan engagement – Listening to music is passive, buying merch is active engagement. Provides value and connection.
Promotional channel – Merchandise promotes the artist and their music as free advertising when fans wear or display it publicly.
Tour support – On-site merch tables provide concert revenue. Pre-sales support touring.
Build exclusivity – Special merch or collaborations make fans feel like VIPs with exclusive items.
Expands reach – Products attract new audiences beyond existing fans. Broadens brand exposure.
Creative outlet – Merch provides another medium for visuals, fashion, and expressing the artist brand.
Cost-effective – On-demand production and online sales enable merch that's affordable to create and sell.
Examples of Music Merch Ideas
Some types of music artist merch you can offer include:
Apparel – T-shirts, hoodies, hats, jackets, sweatpants, tops.
Accessories – Posters, stickers, pins, bags, wallets, phone cases, stationary.
Home decor – Blankets, pillows, towels, wall art, flags, mugs, ornaments.
Collectibles – Autographed items, vinyl, CDs, custom jewelry, limited products.
Tech – Pop sockets, headphones, chargers.
Fun stuff – Socks, underwear, fidget toys, pool floats.
Nearly any physical product can become music merch with the artist's branding and designs on it. Get creative! Next, let's look at designing products.
How to Design Your Merch
Great merch starts with compelling and thoughtful design motifs that resonate with your fans. Here are some tips:
Incorporate your logo – Include your artist name, logo, or established branding for recognizability. Make it the dominant focal point.
Use album visuals – Turn album cover art, posters, and other music imagery into fabric prints, wall art, stickers etc.
Leverage inside jokes – Fans love feeling like insiders. Turn funny songs, catchphrases or meme-able musician moments into fun merch.
Give backstory – Merch that hints at the creative process gives fans a window into the music. Share the story.
Collaborate – Partner with other visual artists or brands to blend aesthetics for fresh takes on merch.
Make it useful – In addition to novelty items, offer functional merch like phone accessories that fans will use daily.
Consider versatility – Products like T-shirts and hoodies work for all genders, ages, and lifestyles. Very inclusive.
Be consistent – Maintain thematic visual consistency across the entire merch catalog for powerful branding.
Selecting Merchandise to Offer
Consider these factors when choosing which products to create:
Production costs – Simpler prints vs intricate embroidered designs. Quantity discounts.
Profit margins – How much will you earn per item after costs?
Price points – Have options from high to low ticket to be inclusive of all budgets.
Demand – What are fans asking for? Check your social media insights.
Uniqueness – Avoid oversaturated products to stand out. Find your niche.
Versatility – Tees and hoodies appeal to the widest demographic.
Theme – Merch should feel cohesive like parts of the same collection.
Seasonality – Offer seasonal drops. Think summery clothes and holiday ornaments.
Storage – Are you stocking inventory or using on-demand production? Requires less storage.
How to Set Up Your Online Merch Shop
To sell your merch, you'll need an ecommerce platform. Some top options are Shopify, Etsy, Big Cartel, and Squarespace.
Shopify makes it easy to create a powerful custom online store. You can sell physical and digital products with a custom domain, payment processing, shipping, promotions, and reporting. Pricing starts at $29/month.
Etsy offers built-in traffic for handmade and creative products. You can create and customize your Etsy shop for free and pay a small transaction fee per order.
Big Cartel is an affordably priced platform tailored for artists, musicians, and creatives selling handmade goods and merch. Plans start at $9.99/month.
Squarespace is a popular all-in-one web design platform. Using Squarespace's templates and commerce features, you can build an online merch store with your site. Pricing starts at $12/month.
For the best control over the look, feel, branding, and functionality, Shopify is our top recommendation. But weigh the options based on budget, requirements, and ecommerce experience.
How to Get Merch Printed and Fulfilled
For production, you have two options – custom printing/embroidery with bulk order units, or print-on-demand services.
Custom printing requires higher order volumes, storage, and upfront investments. But per-unit costs can be lower. Good if you want to sell merch at events.
Print-on-demand means merch is produced to order. No minimums or inventory needed. Production and shipping handled by the service. Better for online shops.
For print-on-demand merch fulfillment, the top recommended service is Printful.
With Printful, you design merch mockups and sync them to your online store. They handle printing, shipping, and customer service when orders come in. All automated.
Benefits of using Printful:
No money down, pay only when something is sold.
Print-on-demand, no inventory or shipping costs.
Integrates with Shopify, Etsy, WooCommerce.
Wide selection of merch like shirts, hoodies, hats, mugs.
Low quantities and fast turnaround.
Professionally printed and shipped.
Printful lets you focus on the merch design and marketing, they'll take care of the rest.
Promoting and Selling Your Merch
To drive sales, focus on these merch promotion strategies:
Email list – Promote new merch in email blasts. Offer discounts for first buyers.
Social media – Post merch launch announcements and product images across social platforms.
Influencer marketing – Send free merch to micro-influencers in your niche and ask them to promote and review the products if they genuinely like them.
Contests – Run social giveaways where fans can win free merch. Great for engagement and reach.
Limited releases – Offer merch in short limited-run batches. Creates hype and demand.
Bundling – Bundle merch with music (e.g. album preorder) for additional perceived value.
Hashtags – Create hashtag campaigns around your merch and encourage user posts.
Photoshoots – Do pro photoshoots of you or fans wearing the merch and share them.
Behind-the-scenes – Share merch production sneak peeks and process. Fans love seeing the behind-the-scenes details.
Reviews – Once the merch is shipping, share testimonials and reviews from real customers.
The more merch feels like an experience rather than just a product, the better it will resonate. Make fans feel invested in the products and brand.
Pricing Your Merchandise
Merch pricing involves finding the optimal balance between maximizing profit margins and keeping products affordable for your audience.
Consider these factors when pricing merch:
Product cost – What you're paying Printful or your printer per unit, including shipping.
Market – Price similarly to other artists' and brands' merch in your niche.
Value perception – Higher prices can signal higher quality and brand prestige.
Demand – Hotter items can sustain higher pricing based on excitement and desire.
Margins – The dollar profit you earn per item after costs. typically aim for 2-3x your cost at minimum.
Psychology – Avoid uneven numbers like $14. Incremental pricing seems fairer.
Audience – Consider your fans' income levels and price accordingly. Offer low and high options.
Bundling – Bundle merch with music (e.g. album preorder) for additional perceived value.
In general, aim for at least $10+ profit per merch item, factoring in all production and shipping costs. Price more based on value perception and demand signals from your audience.
FAQs About Creating Merch
What's the best online store builder for selling merch?
For merchandise shops, Shopify is the best overall platform based on features, control, and ease of use. The other top options are Etsy, Big Cartel, and Squarespace.
How much does it cost to get started selling merch?
With print-on-demand services like Printful or Shopify's built-in POD, you can start selling merch without any upfront inventory costs. You only pay when you make sales.
What products make good music merch?
Apparel like t-shirts and hoodies are proven top sellers. Also popular are accessories like bags, home items like blankets, and collectibles like autographed merch and limited items.
How do I drive sales of my merch?
Use your email list, social media, influencer marketing campaigns, contests and giveaways, bundling with music, and other digital marketing tactics to promote your merch.
What should my merch pricing strategy be?
Price based on your product cost, profit margins, demand, market comparables, and audience. Generally aim for at least 2-3x your cost while keeping affordable options.
How long does print-on-demand fulfillment take?
Printful advertises up to 2-4 business day turnaround plus shipping time. So customers in the US typically receive merch within 5-8 days of ordering.
Can I customize orders with names/text?
Yes, Printful offers personalization and custom text options for many products like t-shirts, mugs, hats, and more.
How do I handle merch returns or defects?
Printful handles any customer service, returns, and defects on orders they fulfill. They guarantee quality and will remake or refund any issues.
What are the payment options for customers?
Through your Shopify store or other platform, you dictate the payment methods like credit card, Paypal, Apple Pay, etc. Printful only facilitates production.
Conclusion
Selling merch can provide musicians with a lucrative additional revenue stream by letting fans support and rep the brand.
The best approach is creating designed-focused products, launching them on Shopify or Etsy using print-on-demand production from Printful to minimize risks and costs.
Market the merch creatively across digital channels and offer diverse products and pricing tiers to maximize accessibility.
Done right, an artist merch store can lead to a sizable new income pillar and stronger fan loyalty. Turn your music into a lifestyle brand fans are excited to wear, display, and collect.
Also Read: