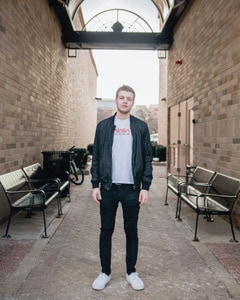 Popular
EDMsauce.com Artist of the Week: Jarod Glawe
Welcome to yet another series of EDMsauce.com Artist of the Week spotlight! Today we are bringing you a Chicago native and up and coming dance music producer Jarod Glawe. Jarod came onto our radar recently with his newest, radio ready and versatile track titled Let Go.
Jarod Glawe's "Let Go" has already received raving reviews. 
"I really enjoyed working on this track. It actually was produced last summer, and the I forgot about it until I realized I had this amazing production sitting around and nearly needed a topline done. I wrote the lyrics over a couple days and then linked up with a vocalist I was connected with. I mixed it shortly after RECEIVING the vocal over the course of two days. " JG
"I only had two original singles released last year, so this year is all about getting more content out there. As of now, I actually have more tracks than I can count signed and ready for release, it's just a matter of giving everyone the proper amount of time for marketing, remixes, releases, etc." JG
It is not often that you find a young musician who can wear so many shoes. Jarod Glawe is a producer, songwriter, audio engineer, sound designer, and DJ. His first two singles (2019) were remixed by Armada artists Mokita and AMPM. All of this before turning the age of 23. In addition to the success had in his own career as an artist, Jarod, a recent graduate of Berklee College of Music, also works as the engineer for famous Chicago rapper "Twista".
While "Let Go" was written before the outbreak of Coronavirus that has swept nearly the entire world, Jarod hopes that the song can be a comforting message to those going through these sudden changes in life. The song was originally meant to parallel a relationship, but truly can be applied to having to "let go" of anything- the passing of a loved one, something that did not work out, or even what the world thought of as normal life just a few weeks ago.
"I want to truly establish myself as a rising talent in the pop/dance and futurebass genres.The best way to keep up with me is through Instagram and Facebook. There are so many exciting things coming that I cannot yet talk about but thank you for taking the time to listen to and enjoy my music!" JG
Big results are expected for this release. In addition to a huge surprise remix that will be releasing in the near future, the single itself has everything that a pop/dance/future bass record should. Meaningful emotions, a beautiful vocal, an empowering melody, and a modern and beautiful production entwined with a clean and powerful mix. The single is out now, on all major streaming platforms. 
"Expect some major remixes by huge dance producers, as well as hopefully triple the amount of releases for me this year compared to 2019! " JG
For more information, promo requests, or to arrange an interview, contact [email protected]
www.instagram.com/jarodglaweofficial
https://twitter.com/jarodglawe
https://www.facebook.com/pg/jarodglaweofficial/posts/
https://www.youtube.com/channel/UCMjM3nqLAV0BKfMniOONEgw
https://www.youtube.com/channel/UCGKfZy5dcXejAn6DK4dtghQ
www.jarodglawe.com