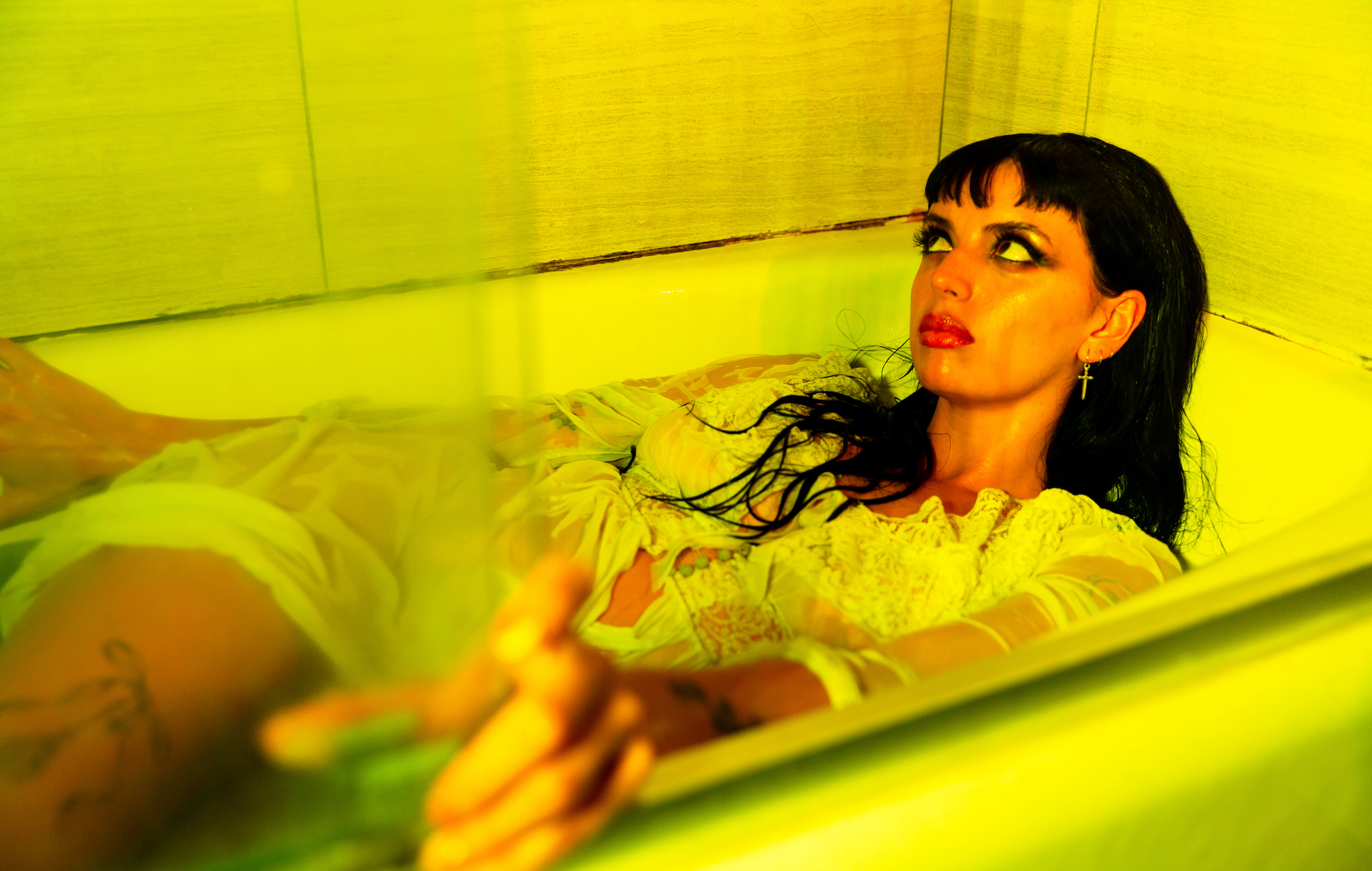 Music Interview
Rebecca Black on releasing her debut album: "I've been dreaming of this moment for so long"
It would be an understatement to say that Rebecca Black has been waiting a long time to release her debut album. After emerging in 2011 with the infamous release of 'Friday' – the cheesy hit that became a viral meme – in the years that have followed, Black has reintroduced herself as a left-field pop hero and earned herself scores of fans in the process.
Black's new position as a bonafide star was solidified when she dropped 2021's 'Rebecca Black Was Here' EP, an impressive collection of hyper-pop tunes that demonstrated who she is as an artist today. Now, over a decade on from her first foray into music, Black has shared her first full-length album 'Let Her Burn', a genre-spanning collection that – as we said in a 4-star NME review – "has redefined Black to be a budding pop distributor for the foreseen future"
"You could probably say I've attempted to make this album for 12 years," the now 25-year-old says with a laugh backstage at London's Heaven. "There were many times when I definitely announced there was an album coming before it was anywhere near being ready."
When NME meets Black, she is gearing up for her headline show in the capital a day after her album was released. Later, the performance saw her kickstart the packed-out club's weekend debauchery, blitzing her way through new and old tracks alike. The show was a well-deserved party, celebrating Black's latest project – as well as her countless years of graft to get it out there.
Chatting to NME for the latest in our In Conversation series, Black went deep on her new album 'Let It Burn', whether she'd consider a remix record and her relationship with the early years of her career. Here's what we learned.
She's been dreaming of this moment for a long time
The work on 'Let Her Burn' began as Black was finalising 'Rebecca Black Was Here'. "I finished that project and I just never really stopped creatively," she explains. "I kept going, there were songs that had been written technically for that EP that I just wanted to finish."
Now out in the world, for Black, the album feels both slightly surreal and a massive achievement: "I spent basically half my life being like 'what is my album going to sound like' and dreaming of this moment for so long," she says. "Hearing it all finished, I think I was surprised by how complete it felt and how right it felt."
[embedded content]
'Let Her Burn' was inspired by UK garage and pop icons
The musical inspirations for 'Let Her Burn' are an amalgamation of the music Black's been listening to for her entire life. "I love pop artists like Madonna, Gaga; those are huge lifelong inspirations for me, and as a woman in pop, they're big inspirations," she explains.
But these megastars aren't the only influences on the record. While in the studio, Black found herself listening to genre-spanning tracks to get inspired, or "floating through a vibe" before even starting to write. "I also love artists like Sleigh Bells, Poppy, and Nine Inch Nails. And Burial, and UK garage," they add. "I think that there's threads that find their own way through each song."
You can hear these varying threads throughout 'Let Her Burn'. From the UK garage-flecked 'Cry Hard Enough' and 'Chromatica'-era Gaga evoking 'Misery Loves Company', to the pure-pop of 'Look At You' and floor-shaking, industrial aspects of 'What Am I Gonna Do With You', the record is a genre-splicing smash.
Although the album doesn't have any features, she wouldn't rule out a remix version
In the past, Black has worked with a host of collaborators, from Slayyyter on the hyper-pop earworm 'Read My Mind', to 3OH!3, Big Freedia & Dorian Electra on a brilliantly chaotic remix of 'Friday'. 'Let Her Burn', however, doesn't include a single guest artist.
"I think there were a few songs that [we were like], 'Oh somebody would be really good on this', but then it just felt complete when it was done on its own, and it didn't need anything else," Black explains. "So I don't know if I set out for it to be feature-less, but it felt right that it was."
Would she consider releasing a 'Let Her Burn' remix album in the future? "Maybe!" she answers. "Maybe I would. I love a remix, there's so many artists I'd love to work with. But I also love just being able to write with people in the room too, that's something I'm really, really interested in."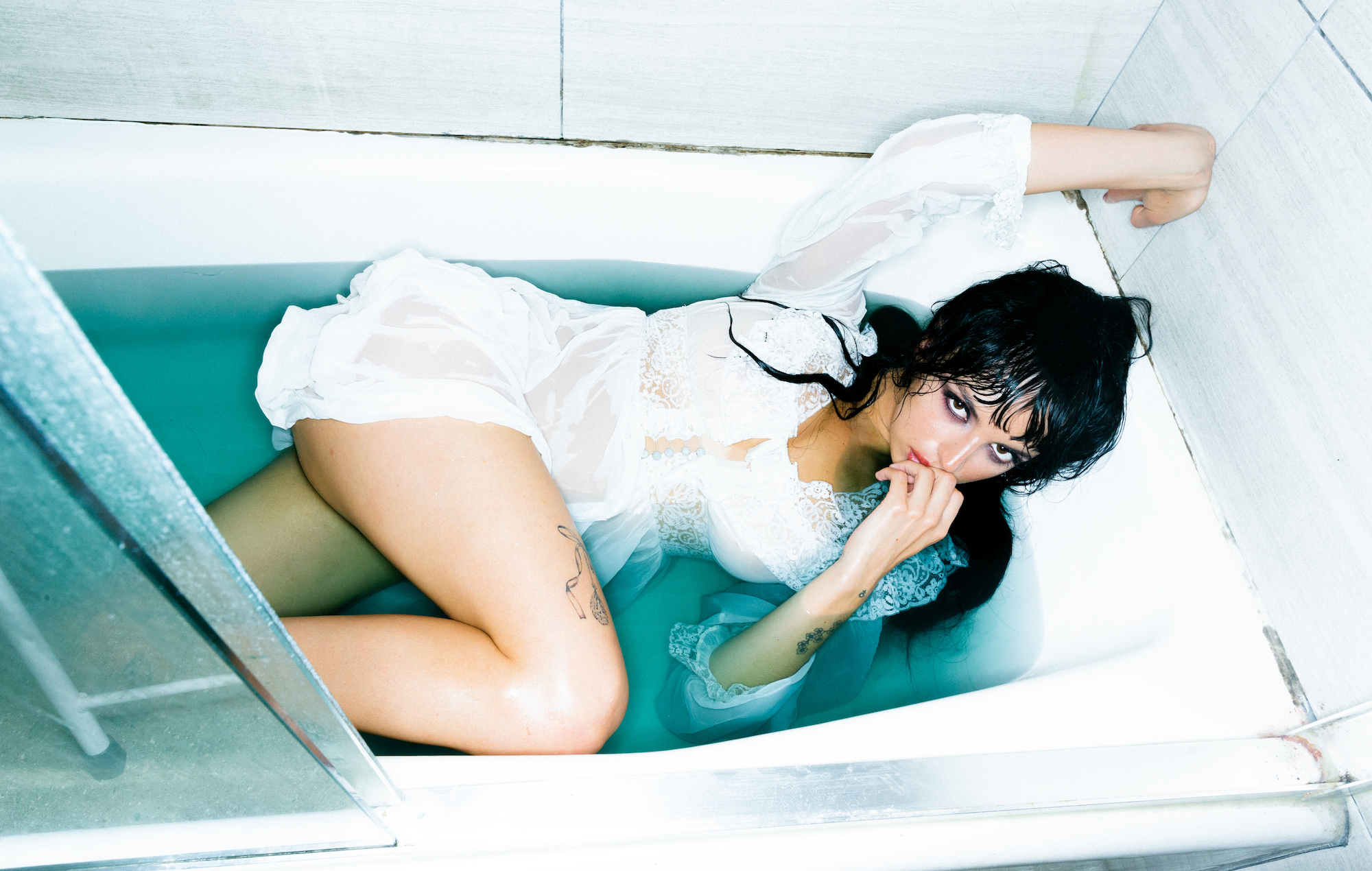 She set out to make a "fucking good album"
While this album may have been a long time coming, Black also considers 'Let Her Burn' to be a starting point in her music career. "A lot of people have been talking about this album as a redemption moment for myself, which is crazy. I have a hard time sometimes coming to terms with the fact that it's a redemption, as it feels like I'm just beginning, but I get why it is," she reflects.
Setting out on the project, she just wanted to as well as create "a fucking good album". She adds: "I could look back and even if ten years from now I listened to the album and don't know if I loved the songs, at least I'll know that I did wanted to do, or I needed to do. And that is enough."
She's made peace with her early career
Black was thrown into the public eye with 'Friday' when she was only 13, exposed to comments from people who'd only seen a snapshot of her life. Reflecting on that time of her life today, she tells NME: "I think I've made a lot of peace with it. And honestly, on a day to day, it feels like 12 years ago".
"But at the same time, it's almost like there's this image that people always use of the 'Friday' video, that's literally just a close-up screen shot of me, with the first pimple I ever had on my face. I almost had that thrown next to who I am so many times that it doesn't even feel like a personal version of me anymore," she says. "That's a version of myself that people have characterised so far it's not even a real person."
Rebecca Black's debut album 'Let Her Burn' is out now