Music Interview
Four ex-LOONA members sign with Modhaus, the agency run by the group's former creative director Jaden Jeong
Four former members of LOONA have signed with Modhaus, the agency founded and run by the K-pop girl group's former creative director Jaden Jeong.
Today (March 17), the entertainment company announced on its official website that it has signed exclusive contracts with four ex-members of the girl group LOONA: Heejin, Kim Lip, Jinsoul and Choerry.
"Modhaus wishes them all the best of luck on their new beginnings, and we promise to give them our full support so that they can create more cherished memories with their fans," Modhaus wrote in its statement.
Modhaus was founded and is currently headed by Jaden Jeong, LOONA's A&R, creative director and music producer from 2016 to 2019. The agency is also behind the new K-pop girl group tripleS.
In its statement, Modhaus uses the birth names of the K-pop idols – Kim Jeung-eun and Choi Ye-rim – instead of their stage names of Kim Lip and Choerry. The other two members have gone by their birth names since debut.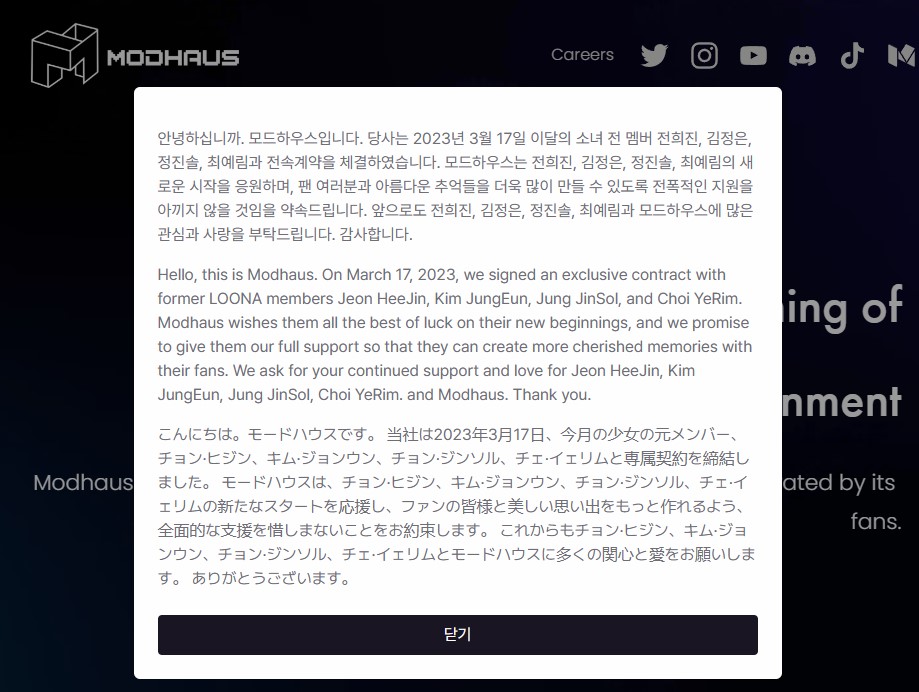 Heejin, Kim Lip, Jinsoul and Choerry had all secured injunctions to terminate their contracts with LOONA agency Blockberry Creative back in January. Contract termination injunctions filed by another five members of the girl group – namely Haseul, Yeojin, Yves, Gowon and Olivia Hye – were rejected at the time.
In February this year, members Vivi and Hyunjin also filed lawsuits to suspend their exclusive contracts with Blockberry Creative – meaning all 11 remaining members of LOONA have sought to suspend their contracts with the embattled agency.
The lawsuits from the LOONA members came after member Chuu was removed from the girl group for alleged "violent language and misuse of power".
Chuu later denied the claims, saying: "What I'm sure of is that I haven't done anything that would be shameful to my fans." She has since started her own agency, Chuu Co Ltd.
Neither Blockberry Entertainment nor Heejin, Kim Lip, Jinsoul and Choerry have publicly commented on their signing to Modhaus.