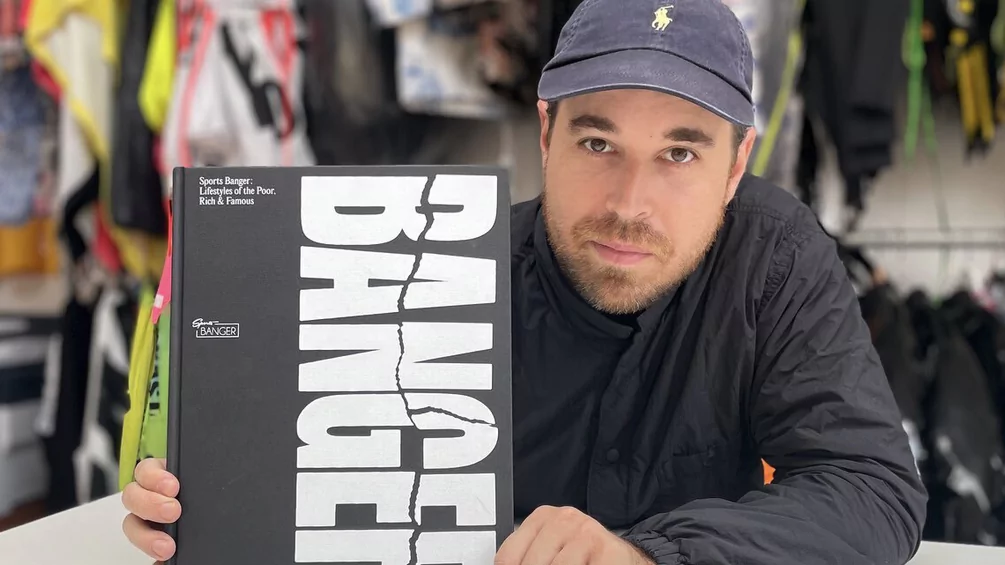 Latest
Sports Banger celebrates 10th anniversary with new book, 'Lifestyles of the Poor, Rich & Famous'
Sports Banger is celebrating its 10th anniversary with a new book, 'Lifestyles of the Poor, Rich & Famous'.
The hardback, published by Thames & Hudson, tells the story of how the brand evolved from creating its first T‑shirt in 2013 to putting on fashion shows, exhibitions and even launching record label Heras in 2020.
Sports Banger first teased the book earlier this summer on the new talks stage at Glastonbury's Silver Hayes, where the collective hosted a 'Books Are Weapons' discussion presented by Dance Your Way Home author, Emma Warren.
"It feels really great to see our work all in one place, it's like it's finally found a home," founder and author Jonny Banger told DJ Mag. "It all makes sense in there too, like you can see all the threads going in and out. Normally you'd need to come to one of our raves or exhibitions to consume our stuff, or though the more throwaway channels like Instagram, so it's great to have a real tangible document of our work."
Sports Banger hosted an official book launch event at London's Institute of Contemporary Arts (ICA) earlier this week, featuring Banger in conversation with conceptual artist Jeremy Deller, and a live performance from DJ Josh Caffé. "Essentially the book was in that room," Banger explains. "Because it's about all these different people's stories, all these people we've collabed with. It was alive within that space."
The book takes the form of a "DIY cookbook", with archival photography and exclusive interviews charting the brand's journey from underground bootlegging operation to international fashion house, political movement, and record label. "Essentially the image on every page is very much achievable," Banger explains. "If I got this book when I was at school or college, I would have fully lost my shit. I really hope it will inspire people."
"Obviously there's a lot of musicality to our work — you can hear Sports Banger — so it was nice to celebrate all that too," he adds. "I see the t-shirts as singles and then the fashion shows as our albums… and we've definitely had some hits."
The book also features essays from Banger himself, alongside Jeremy Deller, curator and writer Anastasiia Fedorova, fashion theorist Nathalie Khan, and more. "These are all people that we have a personal relationship with, or have a connection to the brand in some way," he explains. "At its heart, Sports Banger has always been a celebration of our relationships with each other."
Sports Banger have also confirmed their first ever stockist as Dover Street Market. "It's the only place I've ever wanted to stock and they're notoriously hard to get into, but we're putting in ten designs to celebrate 10 years," Banger shared. "We went in saying we want to be the cheapest thing in here, which obviously they'd never heard before!"
'Sports Banger: Lifestyles of the Poor, Rich & Famous' is available to purchase from all good book shops and online now.