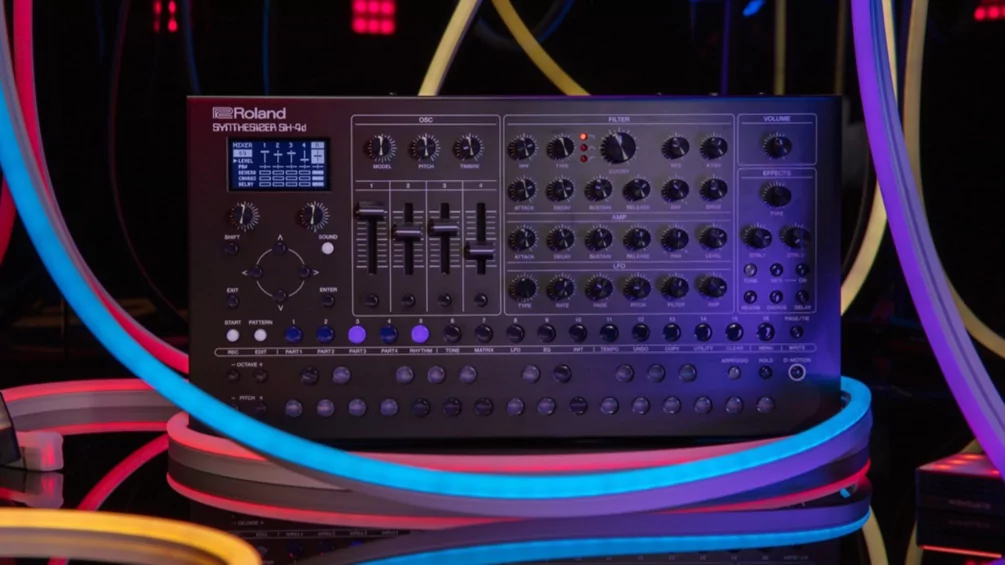 Latest
Roland announces new SH-4d synthesiser
Roland has announced its new SH-4d synthesiser.
The "desktop powerhouse" offers 11 oscillator models, a multi-part sequencer with four synth parts and a customisable drum part, and a "hands-on" interface packed with 32 knobs, multiple buttons and four sliders. It's being touted as a versatile unit suitable for "studio, stage and travelling" and is powered by a standard USB-C phone charger or AA batteries for up to four hours.
Carl Craig, who is featured in the launch video for the SH-4d, said: "That machine is a little monster… So many options to not only shape sound but to shape the musical composition too." Watch the video below.
The Roland SH-4d Synthesizer will be available in the US next month and is priced at $649.99. Find out more from the Roland site.
The new unit is inspired by Roland's very first synth, the SH-1000, first created in 1973. In 2022, Roland celebrated its 50th with the launch of a new website, covering the development and emergence of some of their most influential hardware of the past five decades.
Meanwhile, Roland recently launched its new SPD-SX PRO sampling pad, which uses the brand's latest sensing technology and claims to "raise the bar" following its previously released SPD-S and SPD-SX models.