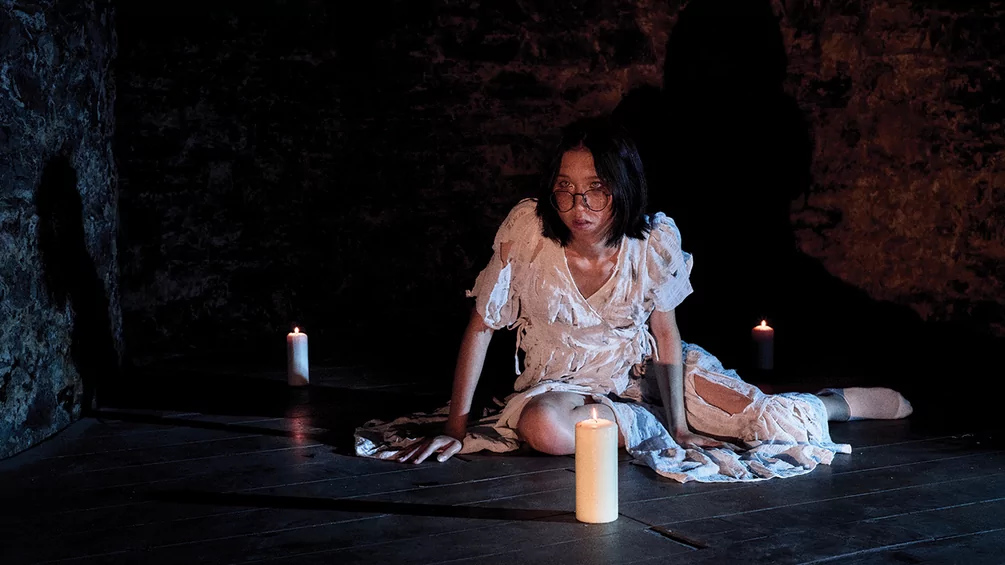 gyrofield creates deceptively heavy bass music that plumbs for hidden detail and feeling. Known for her highly technical, darkly introspective drum & bass, her productions are just as well-suited to the analytical home listener as a rowdy subterranean basement. Cut and spliced drum patterns frame singsong vocals and eerie synth melodies, which guttural rumbles tear through. At times, the results sound furiously industrial. At others, they're full of heartbreak and melancholy. 
"I love the idea of dance music that doesn't try too hard to box itself into a certain style, mood or tempo," gyrofield tells us on a video call from their bedroom, where they still prefer to write music. That thirst for diversity has always been there — before they settled on d&b, gyrofield was sending hyperpop demos to Monstercat — but is more pronounced on recent releases, encompassing Autechre-adjacent ambient, glitchy electro and breaks-infused synthpop. Just this year, gyrofield dove into the 140 BPM sphere on Deadbeats, forging the supercharged, metallic stomper, 'Insecure', which draws from her expertise in bass design.
"I pick up the low-end experimentation from drum & bass and dubstep very strongly," she says. "Even in my earliest drum & bass tracks, I experimented with intricate movements in the low-end — the techno rumbles or gliding low-end that didn't stick to a particular pitch, which is more of a thing in 140 BPM music. I think those points are very commonly shared in UK dance music, even in UK techno."
Growing up in Hong Kong, it was the internet, not the club, that gave gyrofield their first taste of dance music. With the full musical spectrum available at their fingertips, they discovered artists like Skrillex, DMZ and Sum 41 on YouTube — "Pop and rock became more electronic during the 2000s, and that's how I found electronic music," they explain — before uncovering the heavyweight end of d&b. Noisia's 'Outer Edges' and Culprate's 'Dawn' EP both proved pivotal.