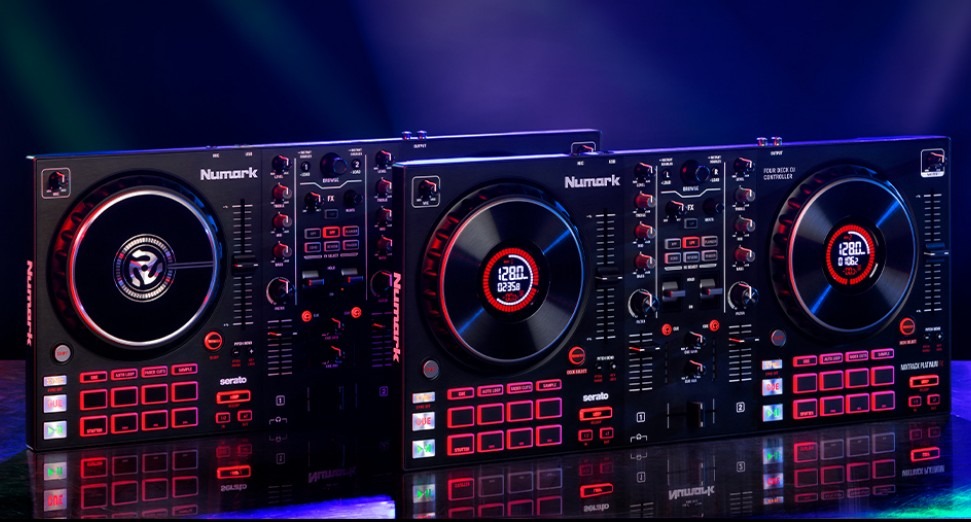 Latest
Numark announces two new budget controllers: MixTrack Platinum FX and Pro FX
News
Numark has announced two new entry-level controllers, the two-channel ProFX and the four-channel Platinum FX. 
The Platinum FX features the ability to switch control to deck three and four, as well as controlling decks one and two. It also features six-inch jogs with on-jog displays that tell you time remaining, bpm, platter position and potch adjustment. There are eight performance pads per channel with four modes including Cue, AutoLoop, Sample and FaderCuts, which mimics scratching crossfader techniques. 
Both controllers also feature dual FX paddles for dialling in different levels of the six FX, with dedicated filter knob per channel as well as a three-band EQ. 
Pro FX is the same as the Platinum FX but without the screens on the jogs and is restricted to controller two channels instead of four. Round back there's a single USB port, a quarter-inch mic input and an RCA master output. Each controller comes with Serato Lite which features TiDAL streaming, including a three-month free trial. 
The Platinum FX costs $249 while the Pro FX comes in at $199.