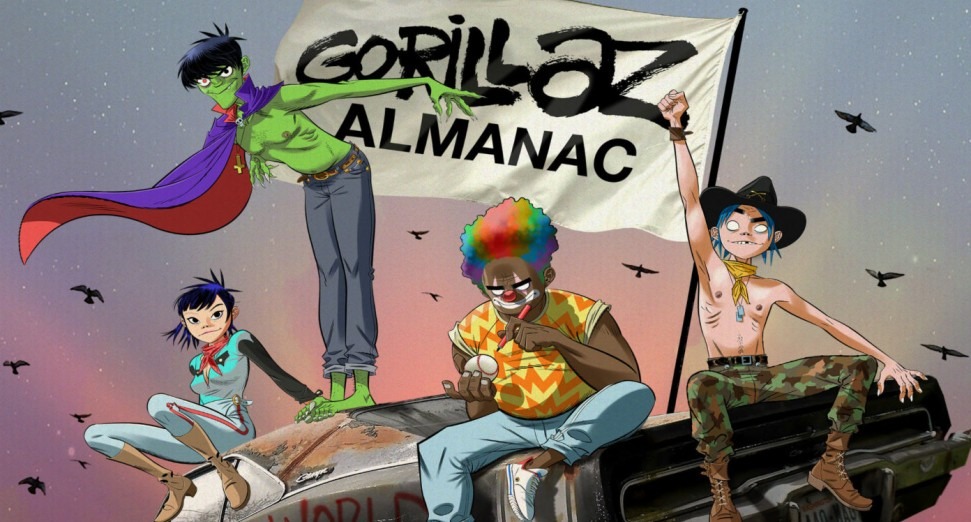 Latest
Gorillaz announce hardback annual with comic strips, puzzles and exclusive artwork
News
Gorillaz will release a hardback annual in October, featuring over 120 pages of comic strips, exclusive artwork, puzzles and games. 
The Gorillaz ALMANAC will mark the animated band's 20th anniversary and is described as "full colour, one-of-a-kind, fun-packed, 120+ page, sideways homage to two glorious decades of Gorillaz".
"The artwork, the music and the mythos all add up to what is destined to be one of our most buzzed about releases in history," said Josh Frankel of Z2 Comics, who will publish the annual. "And when fans see just what we have planned, I know everyone will agree it was well worth the wait."
The Gorillaz ALMANAC will also come with a CD compiling all of the music from the first "season" of the band's recent Song Machine project. Songs in the project have been shared gradually over the past few months, including collaborations with Tony Allen and Skepta, New Order's Peter Hook and Fatoumata Diawara.
Damon Albarn performed a "duet" with his animated alter-ego, Gorillaz frontman 2-D, on Jimmy Kimmel Live! Check that out here. 
Twenty years in the making, we're excited to team up with @Gorillaz for the first ever Gorillaz ALMANAC! Pre-order your copy now at https://t.co/2noKyYijnA pic.twitter.com/SHDHO4oS3L

— Z2 Comics (@Z2comics) May 26, 2020