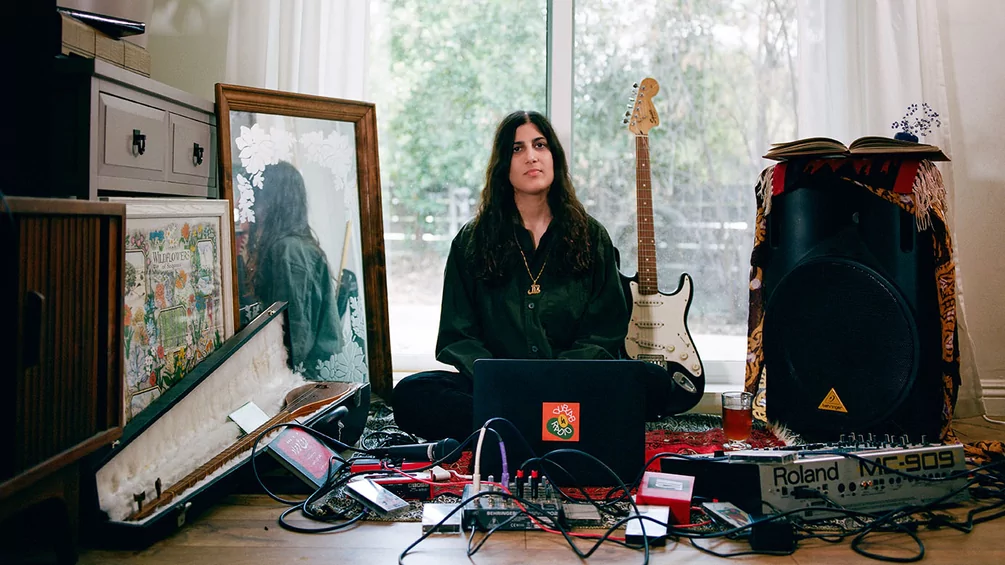 It's a method she also applies to DJing. Instead of constantly chasing new, exclusive tracks, Maral will often return to familiar favourites – "I use the same Crass track all the time" – but blend them in a new way for an alternative effect. Her club sets and mixes, always made on Ableton, are collages of styles and atmospheres, stitched together, as her own music is, with specific images and emotions in mind.
Maral's Fresh Kicks mix arrives in DJ Mag's inbox the day before Nowruz, the Persian New Year celebration that lands on the spring equinox. It's an absorbing 80-minute excursion that touches on everything from hip-hop, dubstep and blissed-out breaks and to technoid footwork,  psychedelic electronica, Baltimore club, and beyond, with some of her own cuts thrown in for good measure. Across 32 intuitively mixed tracks, the prevailing feeling is one of energy and excitement, of light pushing against dark, and the promise of new life. 
A recurring character in the mix is the legendary Iranian singer Hayedeh, whose song 'Bahar Bahar' appears toward the end, but who is first heard speaking over the Japanese composer Isao Tomita's shimmering synth rendition of Debussy's 'Clair de Lune'. "She always reminds me of Iran, my family and the new year," says Maral. Conversing in Farsi during a live Nowruz broadcast from her adopted home of Los Angeles in the '80s, Hayedeh's voice disappears in a cloud of dub delay, soon replaced by that of American author Joseph Campbell, who discusses the existence of mysterious, hidden dimensions in the universe, and the divinity of nature. 
Maral taught herself to DJ on a cracked copy of Ableton, gifted to her by a friend in Virginia. Inspired by Animal Collective's psychedelic live transitions, and with no real experience of seeing how DJs would conventionally play, she started playing through her laptop at friends' house parties and basement shows, mashing-up indie rock and electronic tracks with a liberal use of loops and lashings of delay, reverb and distortion. "I was an outsider," she says. "My friends were really supportive, but I just didn't know if there was anywhere else for me to go beyond just playing for them." 
After moving to LA, she found that there was plenty of space for her atypical style to flourish. She witnessed DJs like Total Freedom and Kelman Duran perform with a similarly experimental approach – sans controller – and started playing at warehouse parties organised by the Freak City fashion brand, and elsewhere with the Discostan collective, who champion music from the MENA region. Before long, she'd launched her own monthly party, N:}0 Rules, at a bar called Lash with her best friend and frequent visual collaborator Annapurna Kumar, and locked down her own regular show on the Dublab radio station. 
Balancing dramatic experimentalism with a firm dancefloor focus in her sets, Maral would sling out moombahton beats, hip-hop cuts, noise jams and Iranian pop; she'd slow down EDM tracks to 60 BPM before incorporating her own vocals through a purple DigiTech vocal effects pedal. "The LA scene allowed me to see how far you could push people with sonics, while still keeping them engaged with it," she says. "Teaching them new sounds while still keeping them engaged."