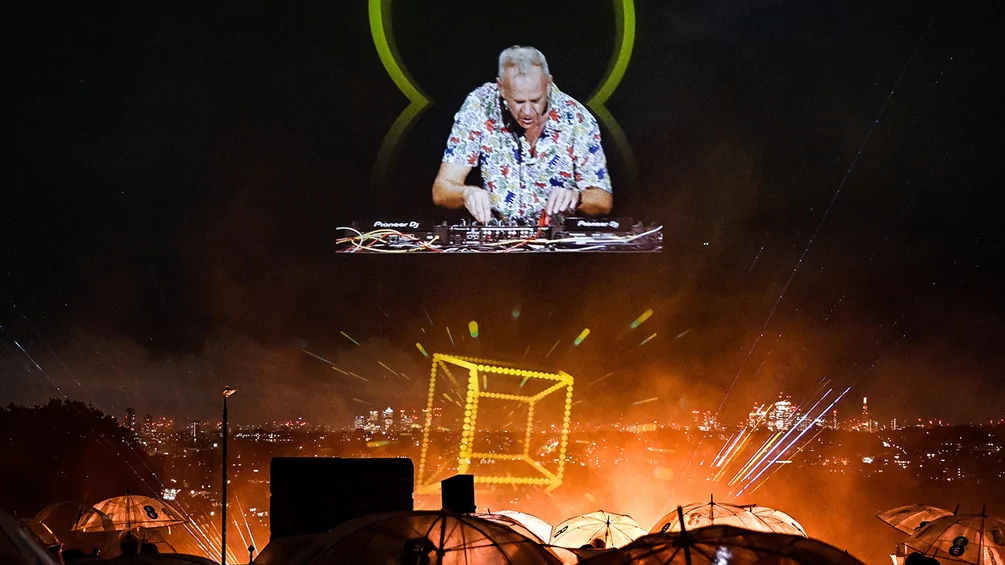 Latest
Fatboy Slim hologram plays surprise show above Alexandra Palace: Watch
People passing the storied North London gig venue Alexandra Palace last Thursday (19th October) were given a special surprise in the form of a hologram-based Fatboy Slim set.
Part of a link-up with mobile network company EE, the DJ, real name Norman Cook, could be seen DJing in hologram form, rising to 50 metres high and suspended from two cranes.
The performance itself took place inside the venue and was projected to people outside. It was also live-streamed via EE's Instagram page, and saw him return to Alexandra Palace after playing a full sold-out show inside in June of this year.
Having also called on fans to submit their dance routines for his hit 'Praise You', videos of those dances accompanied him as virtual backing dancers at one point in the set. Other classics such as 'Right Here, Right Now' and 'The Rockafeller Skank' also featured in the set.
In a statement, Fatboy Slim said: "Last night was a wild ride! We took over London's skyline and made history. A massive shout out to all those fans who joined me on the world's biggest holographic stage to kickstart a brand-new era for EE."
See footage from the set below.
Earlier this month, Fatboy Slim released a 25th anniversary edition of his album 'You've Come A Long Way, Baby'. Read DJ Mag's anniversary feature on the album here.