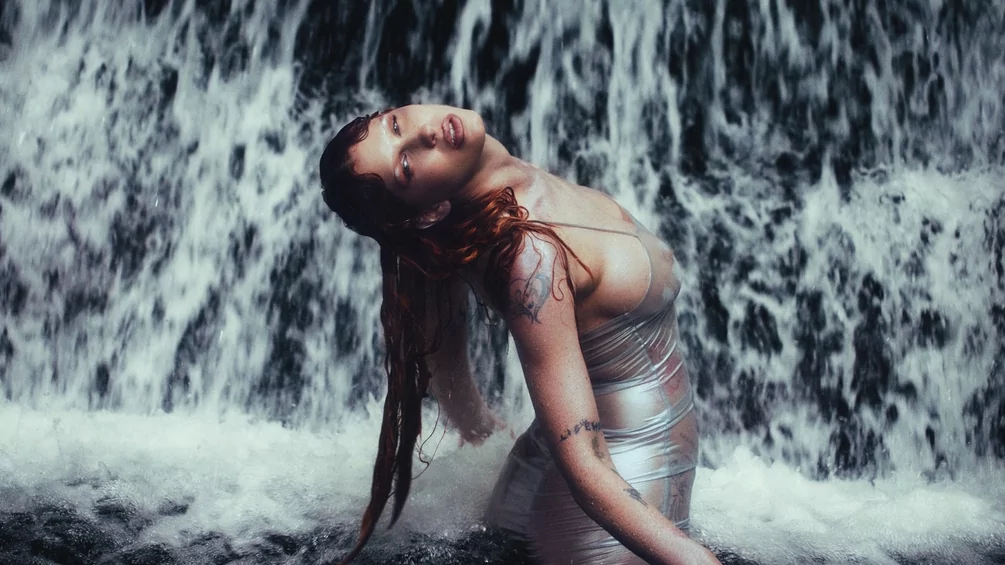 Latest
Eartheater releases new album, 'Powders': Listen
Eartheater has released a new album, 'Powders', alongside a video for a new single, 'Crushing', which can watch below. 
'Crushing' follows the released of singles 'Chop Suey' and 'Pure Snake Venom'. The video is directed by celebrated music filmmaker Andrew Thomas Huang, whose portfolio includes clips for Bjork, FKA Twigs, and Kelela. 
"The video concept for 'Crushing' arose out of a mutual intention between me and Alex to focus on process instead of results. After long conversations about the themes of chance, entropy and chaos behind Powders, we landed on the idea of breaking a wine glass with Alex's voice as a simple, powerful performance act," said Huang. 
"The resulting video builds to this climax while drawing inspiration from the aesthetics of erotic thrillers of the early 90s, the introspective surrealism of Albrecht Durer's 'Melencolia', and the 'memento mori' eroding dice collection of the late actor magician Ricky Jay exhibited at the Museum of Jurassic Technology," they continued. "Ultimately, "Crushing" is a portrait of the artist as an observer contemplating the unraveling universe both in the external world and in the crashing inner depths of the heart."
The Queens, New York-based producer's sixth full-length studio outing features input from Sega Bodega, Yves Rothman, Casey MQ and Kiri, among other names. The record has landed via Eartheater's own Chemical X label, with its nine tunes spanning haunting electronics, trip hop, deconstructed club and bright electronic pop. 
You can grab a copy of the release here.
In support of the LP, Eartheater has also shared details of her European and US tour dates, which run from early November to mid-December, hitting cities such as Berlin, Copenhagen, Warsaw, Boston, New York, Chicago and Los Angeles. Full details are below. 'Powders' is also intended as one of a pair, with a sister album, 'Aftermath', slated to arrive in 2024. Both records were conceived at the famed Sunset Sound, Hollywood, a studio responsible for more than 200 gold records to date.