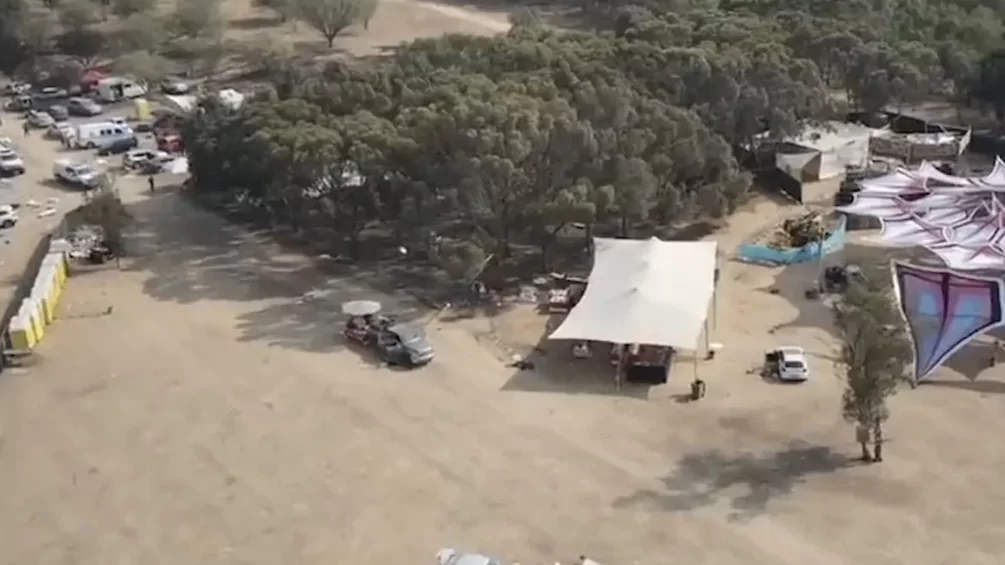 Latest
At least 260 people killed at music festival amid Gaza–Israel conflict
The bodies of at least 260 attendees of a trance music festival in southern Israel have been recovered following a surprise attack by Hamas militants in the early hours of Saturday morning (7th October), Israeli rescue agency Zaka has confirmed. 
Approximately 3,500 people attended the Supernova Festival in the Negev desert, near the Re'im kibbutz, three miles from the Gaza–Israel barrier, on Friday night. Days after the attack, many of them remain missing, with reports of several being taken hostage. 
Organised by Tribe of Nova, the event was an Israeli edition of the Brazilian Universo Parallelo festival, and was intended to celebrate the end of the week-long Jewish holiday of Sukkot. The attack on the festival was carried out as part of Hamas' Al-Aqsa Flood operation, which saw the militant group, which governs the besieged Palestinian enclave of Gaza, launch a multi-pronged attack at several locations along the border fence that divides the two territories.
The attack on Supernova began around 6:30 on Saturday morning, when warning sirens sounded to alert ravers about incoming rockets from Gaza. The Guardian reports that some festival goers mistook these sounds for music, and did not become aware of what was happening until armed militants opened fire onto the crowd.
Footage shared in the aftermath of the attack shows hundreds of festival goers attempting to flee on foot and by car. Speaking to Israel's Channel 12, and reported by the BBC, one attendee called Ortel described the scene: "They turned off the electricity and suddenly out of nowhere they [militants] come inside with gunfire, opening fire in every direction," adding that jeeps full of gunmen followed, and continued to shoot at escaping cars. 
"They fired bursts, and we reached a point where everyone stopped their vehicles and started running. I went into a tree, a bush like this, and they just started spraying people. I saw masses of wounded people thrown around and I'm in a tree and trying to understand what's going on."
Raz Gaster — an artist manager in attendance who was working with several acts scheduled to play the festival, including British DJ Martin Freeland, aka A Man With No Name — shared his account with Billboard. "Around 6:30 in the morning we started hearing explosions," he said. "We went out of the backstage and we saw a full bombardment everywhere. It was hundreds of rockets and mortars flying from everywhere and explosions all around us.
"People were hiding in ditches, hiding in bushes, hiding in the woods, hiding wherever you can think of," he added. "We were getting horrible messages from friends saying, 'Please help us, they are shooting people next to us'."
Among those reported missing from the festival is Jake Marlowe, a 26-year-old British man who was working as security at the festival. Drone footage shared in the aftermath of the attack shows the festival site in ruin, littered with abandoned and damaged vehicles. 
One video that has been widely circulated on social media shows a young woman, identified as Noa Argamani, being driven away on a motorbike by two members of Hamas, while her boyfriend, named as Avinatan Or, is led away on foot by two others. In an interview with CBS news, Argamani's father said, "She is an amazing person, a sweet child… I cannot believe it." He added that he wants the Israeli government to rescue his daughter, but "only by peaceful measures". "We need to act with sensitivity," he said. "They [Palestinians] also have mothers who are crying, the same as it is for us."
Violence has escalated in the days since Hamas launched the Al-Aqsa Flood operation, which saw a bulldozer tear down a section of the fence at the Israel-Gaza border in what has been described as the "most serious escalation" of conflict in the region since 2021's 11-day war. Israeli Prime Minister Benjamin Netanyahu has declared that the country is "at war", with military retaliation resulting in a wave of airstrikes on Gaza. As of today, Israel has ordered a total blockade on the Gaza Strip, halting deliveries of food, fuel and supplies to its 2.3 million people, according to the Associated Press. 
At the time of writing, it is reported that, since Saturday, over 800 Israelies and over 500 Palestinians have been killed as a result of the escalating conflict.
Alongside a statement shared yesterday (8th), Tribe Of Nova shared a file, inviting followers to provide any information they could about missing festival goers, explaining that they are "doing everything we can to assist the security forces, stand with them in constant contact and are located in the area in scans and searches in order to locate the missing."