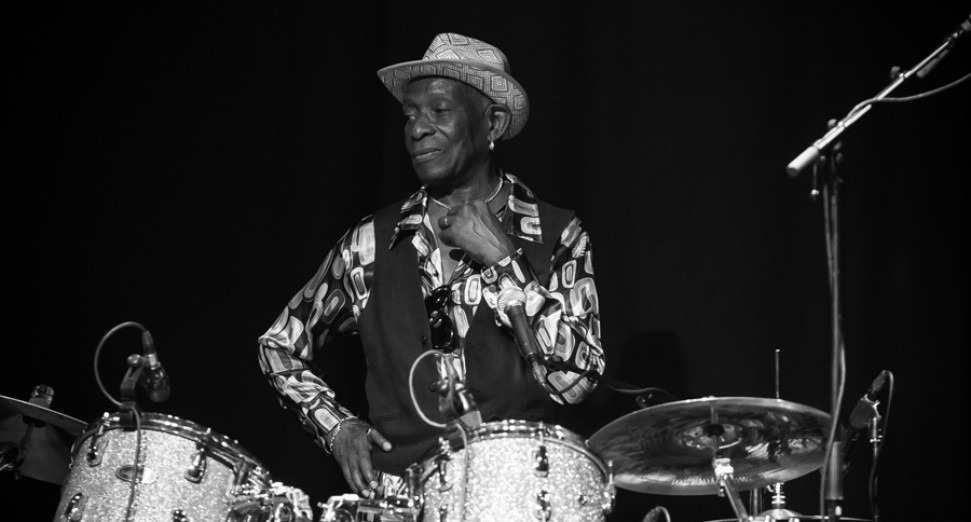 Latest
Afrobeat pioneer Tony Allen has died, aged 79
News
Tony Allen, the legendary drummer widely regarded as a co-founder of Afrobeat, has died at the age of 79.
Allen's manager, Eric Trosset, confirmed the news to NPR Radio. "We don't know the exact cause of death," he said. "He was in great shape. It was quite sudden. I spoke to him at 1pm then two hours later he was sick and taken to Pompidou hospital, where he died." He added that it was not linked to the Coronavirus pandemic.
Most widely known as the drummer and musical director in Fela Kuti's band, Africa '70, the pair created Afrobeat together by fusing west African sounds like highlife, and the drum patterns of Yoruba music, with jazz and funk. Kuti, who died in 1997, once commented that "without Tony Allen, there would be no Afrobeat".
Born in Lagos, Nigeria, Allen didn't learn to play the drums until he was 18, and would join Africa '70 in 1968, with Allen and Kuti going on to record over 30 albums before he left the collective in 1979. He went on to collaborate with artists including Jeff Mills and Sébastien Tellier, as well as Damon Albarn, Paul Simonon, and Simon Tong, as The Good, the Bad & the Queen.
A number of artists paid tribute to Allen, who Brian Eno once described as "perhaps the greatest drummer who has ever lived." You can see a selection of the tributes below.
REST IN POWER AND JOURNEY WELL ANCESTOR TONY ALLEN pic.twitter.com/4fYxgsdwrO

— Seun Anikulapo Kuti (@RealSeunKuti) May 1, 2020
going to start the day with a tribute to the master Tony Allen who passed away yesterday in Paris. I spent many good times with him… he loved the DJ culture and was always keen to explore all musical avenues. Massive loss . Tune in at 9AM on @worldwidefm

— Gilles Peterson (@gillespeterson) May 1, 2020
The epic Tony Allen, the greatest drummer on earth has left us. What a wildman with a massive, kind and free heart and the deepest one-of-a-kind groove. Fela Kuti did not invent afrobeat, Fela and Tony birthed it… https://t.co/qXqMAP7QzT

— Flea (@flea333) May 1, 2020
Photo: Tore Sætre / Wikimedia