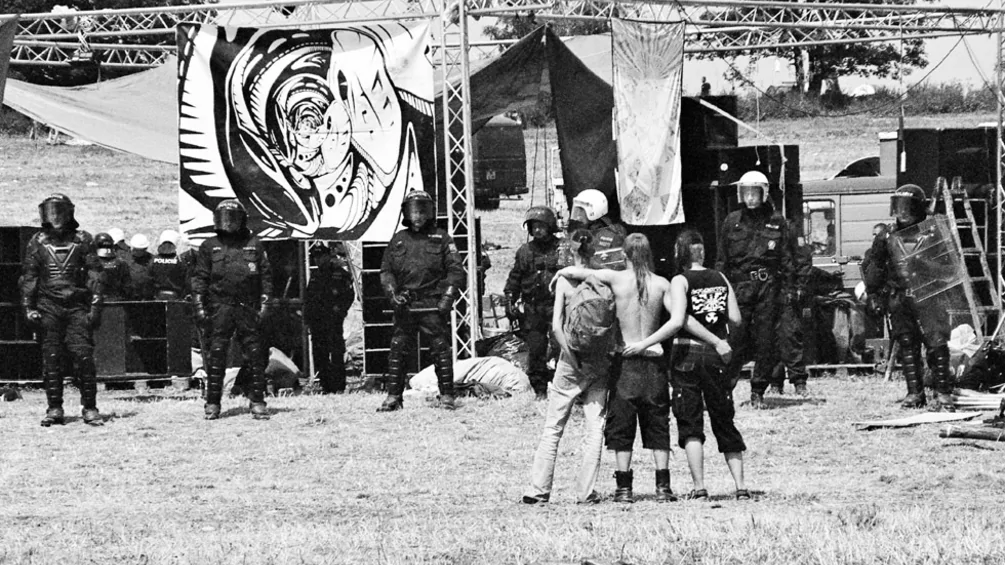 Latest
Acid techno label Stay Up Forever's 30th anniversary exhibition, London Acid City, starts next week
Seminal acid techno label, Stay Up Forever, has announced an exhibition to mark its 30th anniversary. London Acid City will open on Wednesday 1st and run through to Friday 3rd March ("303 Day") at East London club FOLD. 
Curated by crew member Sterling Moss, with art director and photographer Joe Giacomet, archive materials and new work will be on display after a successful crowdfunding campaign late last year. The collection aims to tell the story of a sound that grew out of abandoned warehouses in the UK capital to the wider national and international rave communities. 
Salvaged art collective Mutoid Waste Company, who were involved in the Closing Ceremony of London's 2012 Olympic Games, have contributed pieces. As has actor, comedian and painter Nick Frost, and documentary photographers Alan Lodge, Molly Macindoe and Adrian Fisk.
Founded in 1993 by the Liberator DJs — Chris, Julian and Aaron — Stay Up Forever was built on anti-establishment ethics and a distrust of the era's Conservative government, which was working on legislation to criminalise raves.12 months before its launch, those behind Stay Up Forever had been involved in the landmark Castlemorton Common Festival, now considered the largest free party ever held in the UK.
Once established, the imprint quickly became a cornerstone of underground dance music culture. After the Criminal Justice and Public Order Act 1994 passed, outlawing gatherings soundtracked by specific types of electronic music, the crew continued to represent this counterculture, playing an active part in Kill the Bill street protests aimed at stopping the new legislation. By the end of the decade, they would feature in the literature of Irvine Welsh, and record sessions for BBC Radio 1's John Peel. 
Last year, DJ Mag published an in-depth feature around the images captured by Alan Lodge at the Castlemorton Common Festival. Revisit the article here.