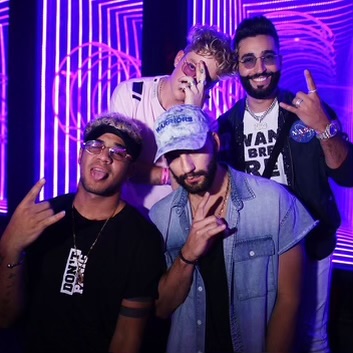 When you think of Afrohouse music, the names Artbat, Bedouin, and Black Coffee might come to mind. But there's a new artist on the scene who's shaking things up and making a name for himself. Meet Dean Walker, the Afrohouse producer and DJ whose passion for music, art, and jewelry has led him to create chart-topping hits that capture the attention of the industry's biggest names.
Dean has been quietly working behind the scenes for over half a decade, ghost-producing for some of the most prominent touring acts in the world. He's not only a talented artist in his own right, but he's also been instrumental in helping his close friends succeed in the Afrohouse scene.
There's something magnetic about Dean's music. With tracks like "Revolution," "Go," "Time," and "Ibiza," he's created a unique sound that's both captivating and undeniably fresh. He's not just another face in the crowd; he's an artist redefining the genre and pushing it to new heights.
Take, for example, his song "Revolution." It's a track that transcends the traditional boundaries of Afrohouse music, taking listeners on a journey through pulsating rhythms and hypnotic melodies. So it's no surprise that this track has caught the attention of some of the biggest names in the industry. They recognize talent when they hear it and know that Dean is an artist to watch.
But Dean isn't content to rest on his laurels. His follow-up track, "Go," is another testament to his creative genius. The song showcases his ability to merge catchy hooks with irresistible beats, creating a sonic experience that's both familiar and entirely new. It's not just Dean's music that sets him apart, though. He's also passionate about art and jewelry, and this passion infuses his work with an added layer of depth and meaning. It's clear that Dean is an artist who's dedicated to his craft, and this dedication shines through in every note he plays and every beat he produces. 
As a ghost producer, Dean has helped propel the careers of some of the biggest names in the Afrohouse scene. His close friends have benefited from his expertise, and they've climbed the charts as a result. But now, it's time for Dean to step into the limelight and claim his rightful place as one of the most exciting and innovative artists.
So, what's next for Dean? Only time will tell, but one thing is certain: he's not slowing down anytime soon. With each new release, he's pushing the boundaries of what Afrohouse can be, and we can't wait to see where his creative journey takes him. So, if you're a fan of the genre or just a music lover in general, do yourself a favor and listen to his tracks. We promise you won't be disappointed.
If you haven't heard of Dean Walker yet, it's high time you added his music to your playlist. With his distinctive style, chart-topping hits, and undeniable passion for his craft, he's an Afrohouse artist well on his way to becoming a household name.