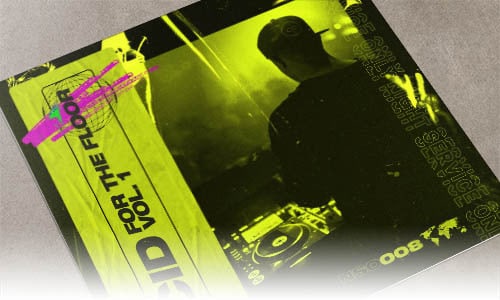 Popular
CID Kicks Off EP series on Night Service Only
New York born artist CID has been making waves for quite a while now, releasing hit tunes on various labels, including Spinnin' Records, Big Beat, Musical Freedom and Hexagon. Last year, he added an exciting new chapter to his already impressive resume by launching his very own Night Service Only Label, a place where he aimed to present high quality dance music, whether from himself or other artists.
Since then he's done just that, dropping records that received widespread DJ support, underlining the label's intentions with strong, exciting and highly inventive productions. This is now taken to a next level as he presents 'For The Floor EP, Vol. 1′, an ambitious next step for the label as it kicks off a series of brand new club gems.
And well, you know what they say about the first punch. Volume 1 is nothing less than a knockout, featuring the blazing club tune 'Dolce', a nice teamup between tech house grooves, deep electro vibes and bouncy bass chords. It's proven itself a popular track, receiving huge DJ support from guys like Martin Garrix, Dimitri Vegas & Like Mike, Tiësto, Oliver Heldens, Kryder, Don Diablo and many more.
"It's crazy to thing how long "Dolce" has been exclusive to my own sets.  I first made it and started playing it out around August of 2018! I wasn't sure if I would ever end up releasing it, but more and more people started asking about it, and the reaction every time I play it is always huge!  It feels great to finally be able to release it for everyone to play!" – CID
The EP continues with 'Downstairs' (feat. Jaquell), a track already released as a single earlier this year, resulting in massive DJ support and critical acclaim. It's a record that builds on similar club house rhythms, stirring things up with quirky vocals and mesmerizing sound effects. This is one of those peaktime tunes in the club that's bound to get the crowd in a frenzy, a trademark CID crowdpleaser.
Third track 'Lost Ur Mind' goes a bit deeper, diving into darker grounds with a steady tech house beat, low bass chords, upwinding vocal samples and high energy crescendos. It's a tune that will get sweat dropping off the walls, a sure shot DJ weapon we've grown to expect with every release on Night Service Only. Oh yes, we are ready for the floor!

"Super excited to release my first EP on Night Service Only. The EP, 'For The Floor Vol. 1′ is just that, music for the dance floor. It's the first of many dance floor specific EPs I plan to release through the label. Sticking to the ethos of NSO, these tracks have all been staples in my live sets for months, and it feels great to finally be able to share them with everyone!" – CID