Skyzoo and Raheem Devaughn play the block while a heist unfolds in the new video for "Baker's Dozen," the lead single from the just recently released In Celebration Us album. Produced by Apollo Brown.
---
We pick up with MadeinTYO in a remote location where he dines on pancakes in the company his date surrounded by wrapped weight. Produced by DWN2EARTH f that True's World, out now.
---
MadeinTYO continues his highly successful 2017 campaign with the release his new EP, True's World, the title which was inspired by his son True. "This EP is for my fans, I wouldn't be here without them," he explained to FADER. "True's World is special to me because it was inspired by my son — my biggest collab this year was making him with my fiancé distortedd." The project features beats from DWN2EARTH, FKi 1st and Nard & B and is available to stream in full below now, several hours ahead its ficial release tonight.
---
Young Scooter is joined by Young Thug and Future on "Trippple Cross," the title track from his upcoming next album. Listen below.
---
Stalley is on the prowl in the back the "Turtle Van" in his latest visual from the Tell the Truth, Shame the Devil album, out now.
---
J.I.D gives us the Black Ed, Edd n Eddy in the new animated video for his The Never Story track, which is highly enjoyable and samples that same track ATCQ flipped for "Scenario."
---
Following his induction into the Dreamville crew earlier this year, Atlanta's J.I.D drops his first project under J. Cole's label, The Never Story. The project features appearances from his Earthgang brethren and 6LACK, as well as production from Cole himself, Childish Major and SMKA among others.
Stream below.
You can also look for the album on Apple Music or your preffered streaming service.
---
J.I.D's new video for "Hereditary," from his project The Never Story, focuses on generational drama and how it comes full circle. Watch above and catch the Dreamville MC on the 'Never Had Sh!t Tour' with Earthgang and Lute kicking f in November.
---
Wiz is back in the studio for another visual, this time with Sosamann over some TM88 production on a new joint called "Best Life."
---
Big K.R.I.T and Tip are banking big bucks in the latest visual from the 4eva Is A Mighty Long Time LP.
---
Although he has continuously fed the streets with loosies, guest appearances, and the occasional mixtape, it has been three years since Big K.R.I.T dropped a proper full-length LP. Today he returns with his first new album since 2014's Cadillactica, the 22-track deep double LP, 4eva Is A Mighty Long Time. The first promotional teaser he released for this project depicted him burying himself in an unmarked grave somewhere in the woods, so it's probably safe to assume that he sees this album as something a rebirth. As far as guest appearances, he's got a strong ATL contingent joining him this go-round, with T.I., Cee-Lo Green, Sleepy Brown and Joi all contributing, as well additional features from UGK, Jill Scott, Bilal and Robert Glasper.
Stream below now.
---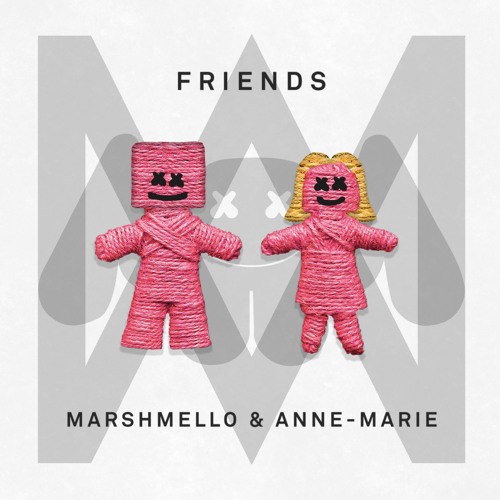 Marshmello ft. Anne Marie – Friends
Marshmello has earned himself praise for his variety music the past couple years. He can release a pop song, a trap track, and really has shown his diversity in producing. He's teamed up with the likes Migos, Selena Gomez and most recently the late Lil Peep. Today, he teams up with Anne Marie on their new single 'Friends'.
'Friends' is a catchy and poppy radio friendly track. It's a good track for anyone who seems to be in the friend zone with a girl, as Anne Marie clearly states that she has a man who wants more than just friendship. Seems like a Chainsmokers desperate love song! The track has addictive vocals and popping snares. 'Friends' will surely get you in singing mood and ready to go out this weekend.
---