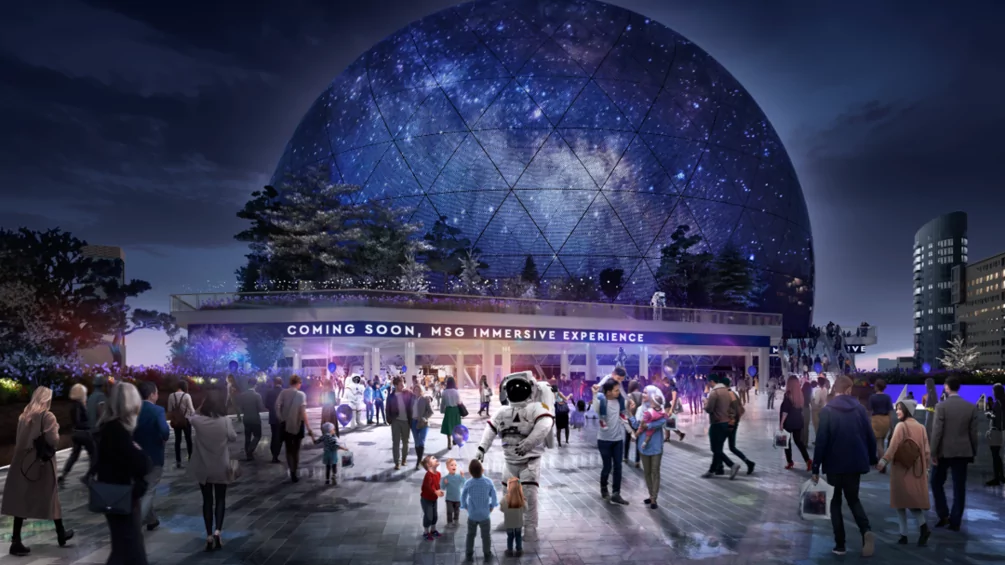 Latest
London's controversial MSG Sphere development paused temporarily
Plans for the development of the MSG Sphere, a controversial new gig venue and immersive experience in London, have been temporarily halted.
A directive to pause progress on the 21,000-capacity, 90-metre-tall sphere-shaped venue came from Michael Gove MP, the Secretary of State for the Department of Levelling Up, Housing and Communities (DLUHC). If it eventually goes ahead, the venue will be built near the Queen Elizabeth Olympic Park and Westfield shopping complex in Stratford.
Gove is said to have issued an Article 31 holding directive, which temporarily blocks the London Legacy Development Corporation (LLDC) and the Mayor of London from signing off proposals for the venue.
In January of this year, the LLDC approved advertising boards on the venue's exterior which would be covered in triangular LED panels. The Mayor of London, Sadiq Khan, had yet to approve such plans, however.
If the project does ultimately go ahead as intended, it will become the biggest arena venue in the UK. There are also plans to add a smaller 1,500 capacity venue inside the building, as well as shops and restaurants.
The plans for the venue have been highly controversial with those who oppose it having voiced concerns about the impact on local residents and the area, particularly due to its tall structure and the potential for light and noise pollution from the external LED panels that will surround the sphere-shaped structure. The panels would be in use from early morning through to 11pm, with over 1 million LEDs set to be put to use.
AEG, which runs another large London arena venue in The O2, has also objected to the development. Alistair Wood, of AEG Europe, said in a statement: "More than a decade after the Olympic Games, the LLDC's planning decision process is now at odds with the views of the communities that it was set up to support and develop.
"With the LLDC due to be disbanded at the end of next year, it would be democratic for the government to intervene and back the wishes of elected councils in east London who want this inappropriate development blocked to protect the wellbeing of local people and existing businesses.
"Since these proposals first emerged back in 2017, AEG has consistently raised its objections to the unacceptable impact that this proposal will have on the operation of The O2 and the hundreds of residents who will be even more directly affected."
It's not yet known whether Gove's intervention in the project could spell the end of plans for the venue altogether.