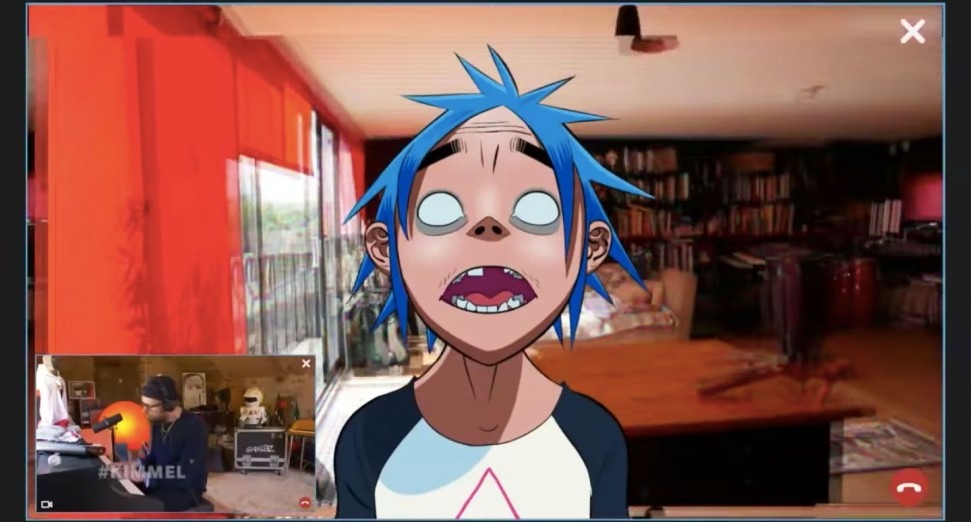 Latest
Gorillaz 2-D performs "duet" with Damon Albarn on Jimmy Kimmel Live!: watch
News
Damon Albarn performed a "duet" with his animated alter-ego, Gorillaz frontman 2-D, on Jimmy Kimmel Live! this week.
Albarn, broadcasting from his attic studio, and 2-D gave a rendition of recent Gorillaz single, 'Aries', which was released last month as part of their Song Machine project and which features New Order's Peter Hook and Georgia.
Kimmel described the performance as ""the first time Albarn has ever performed a duet with one of his animated pals". Check it out below. 
In March, Gorillaz addressed their fans amid the global coronavirus pandemic, promising that their 'Song Machine' project will continue through "the storm".
Earlier this month, Gorillaz shared a new track, 'How Far?', featuring Skepta and the late, great Afrobeat pioneer Tony Allen, whom the track is dedicated to. The animated band also shared a single, 'Désolé', recently, featuring Malian musician, Fatoumata Diawara.
Read our 2018 interview with Gorillaz's lead guitarist, Noodle, here.