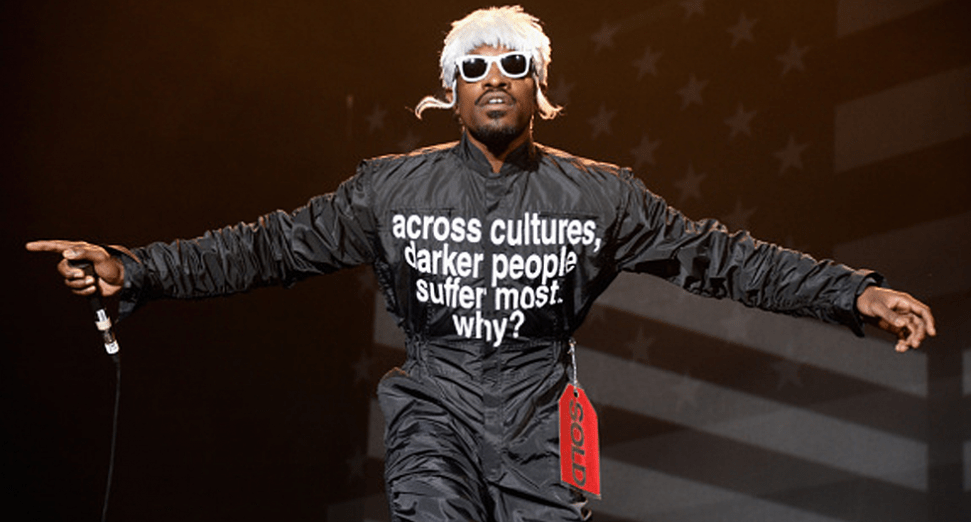 Latest
André 3000 releases T-shirt range to raise money for the Movement for Black Lives
News
André 3000 has released a T-shirt range to raise money for the Movement for Black Lives.
The rapper and actor, real name André Lauren Benjamin, took to Instagram to share the range which is on sale for three days, and is based on a series of jumpsuits emblazoned with slogans that the artist wore in 2014.
Raising money for the Movement for Black Lives, the T-shirt depicted on the artist's Instagram is embellished with the word "breathe".  Alongside a design for the "breathe" shirt on Instagram, André 3000 wrote: "Something very important is happening all over the world and it is happening to all of us. How does it make you feel?"
"This is only one piece in the war against systemic racism. It takes all of us. BLACK LIVES MATTER… at a minimum,"
There are other designs available via the official website, and T-shirts cost $75. All proceeds raised from sales will go to Movement for Black Lives.
Check out the post from André 3000 below.
 

 

 

View this post on Instagram

Something very important is happening all over the world and it is happening to all of us. How does it make you feel? For 3 days, a selection of shirts inspired by a collection of my jumpsuits will be sold and 100% of net proceeds will be donated to Movement for Black Lives @mvmnt4blklives to aid in their fight to end police brutality & racial injustice against Black people. This is only one piece in the war against systemic racism. It takes all of us. BLACK LIVES MATTER … at a minimum. – 3 Link in bio #blacklivesmatter #defendblacklives